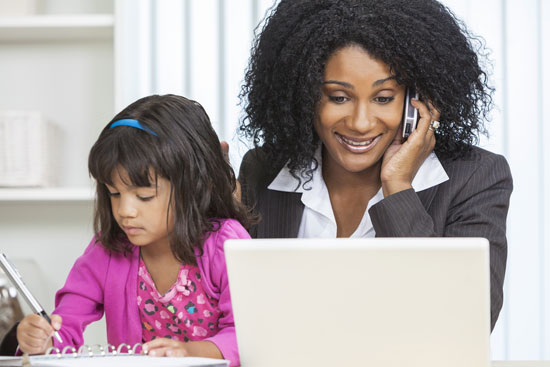 Officially the fourth Thursday of April (April 28, 2016), "Take Our Daughters and Sons to Work Day", is a day of bonding between parents and children, as well as a day wrought with job exploration and exposure to job skills!
Why not ask your employer if your children can observe you in action and participate in your responsibilities on the special day this year? If you are unable, ask a trusted friend or neighbor if your child can participate with him or her.
Consider the following to make the experience accessible and meaningful for your child with a visual impairment:
Begin the workday with an orientation to the building. This will help your child get his or her bearings, and it never hurts to learn where the restrooms are located. To assist you, utilize FamilyConnect's Helping Your Child Who Is Blind or Visually Impaired Orient to a New (School) Building article.
Whether you are employed inside or outside of the home, recognize your often-unspoken job expectations and explicitly teach them to your child. Speak about the formality of clothing and shoes you choose; the importance of your timely arrival; the requirement of your participation in meetings; and the avenues you utilize when questions or concerns arise. Utilize CareerConnect's article on employer expectations to assist you.
Identify and discuss the social skills and work habits, known as "soft skills", which allow you to be successful on the job. Talk beforehand about how you handle frustration, take initiative, and show respect for the employment team. Utilize CareerConnect's article on building positive work habits to review important "soft skills" transferable to all jobs and careers.
Communicate the technical skills, or "hard skills", you are paid to execute. Share how you acquired the skills (through education and former work experience) and how you continue improving with additional training and practice. Next, involve your child in the executions of tasks, using hand under hand or hand over hand if necessary, and share your research on how the task can be accommodated for an employee who is blind or visually impaired.
Talk with your child about why you work. From the income to the mental challenges and social connectedness, give your child the "big picture" of your day-to-day grind.
Introduce your child to coworkers, clients, and staff. Ask the individuals to communicate their job responsibilities to your child.
Consider concepts which can be taught to your child while he's with you at work. If you work in a hospital, take the opportunity to teach your child about a pharmacy. If you work in an office, take the opportunity to teach your child about cubicles and a break room. If you work at an airport, take the opportunity to teach your child about an air control tower.
To get an idea of just how treasured and meaningful this day will be for your children, read former CareerConnect Program Manager Joe Strechay's account of visiting his dad's NYC office.
Enjoy the day and let us know how it goes!