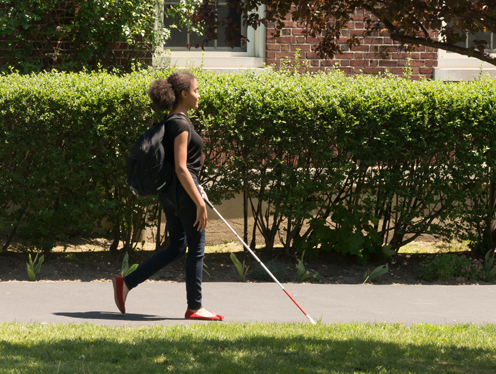 School's out, the sun is beating down [have mercy!!], and most children are spending much more time at home. That's right—summer's in full swing, and my hope is that playtime is in full force.
We know playing encourages creativity, problem solving, and social skills. Why not use play time as a fun means of advancing in Orientation and Mobility? Let's put our heads together in effort to create a master list of activities that help our children practice Orientation and Mobility skills.
First, browse FamilyConnect's list of Orientation and Mobility activities; you'll find activity suggestions and tips on making the activities meaningful learning opportunities. You'll read ideas regarding picnicking, visiting zoos and amusement parks, shopping, playing at friends' homes, and visiting restaurants.
Second, browse Professional Development and Research Institute on Blindness' Games that Enhance the O&M Experience for Children; read about games that teach left/ right, cane use, cardinal directions, and traffic signs.
Third, consider incorporating the following into summertime play:
Play games that teach young children their body parts (such as "Simon says").
Play games that improve your child's balance, strength, and fitness (such as yoga, stretching, walking on a balance beam, and jumping on a trampoline).
Have beeping balls on hand for indoor and outdoor play. With their use, your child can more easily play with sighted peers, improve in coordination, and prepare for sports.
Ask your child to teach sighted guide to visiting friends.
Encourage your child to walk more independently (with less sighted guide when appropriate).
Teach your child to request and decline assistance.
Introduce your child to a variety of sports.
Take neighborhood walks. Allow your child to explore street signs, trail the grass along the sidewalk with a cane, listen to traffic and help decide when it is safe to cross streets, feel changes in terrain, and notice smells and sounds.
Utilize public transportation. As described in the "The Value of Orientation and Mobility Skills", you can venture to an unfamiliar location of your child's choice while teaching your child to obtain a bus schedule, pay a bus fare, behave appropriately while traveling, recognize bus stops, and more.
Take a taxi. Walk your child through the process of calling, meeting, using, and paying a taxi driver for a nearby family excursion. Go get ice cream, see a movie, or hail a cab for dinner.
Consider joining a gym with your teen. Your son or daughter can improve fitness and learn about his or her body.
What else would you add to our list? I'd love to hear your suggestions.
I sure hope you're enjoying the summer thus far!