Hope you and your families are enjoying the summer and are able to keep cool as the country is experiencing unusually extreme hot temperatures. Summertime is always a busy time for the National Association for Parents of Children with Visual Impairments (NAPVI) State Affiliate and Regional family outings, conferences and parent meetings because the children are out of school and families get to enjoy a more relaxed schedule.
This summer NAPVI State Affiliates held family retreats, events, and conferences throughout the United States—including one of our longest established affiliates, Michigan Parents of the Visually Impaired, who held their annual family retreat. They are an amazing example of a strong statewide parents association led by their President, Gwen Botting.
NAPVI and the National Industries for the Blind (NIB) co-sponsored a "Disability Employment Forum" for parents of children with visual impairments and multiple disabilities at the Parents' pre-conference at the Texas Focus statewide conference coordinated by the Texas Association for Parents of Children with Visual Impairments (TAPVI) and the Texas School for the Blind's Outreach staff. The purpose of the forum was to bring blindness and disability employment leaders together with parents to learn and discuss issues about future employment options for their children and how to prepare them for future employment.
NYC-NAPVI Affiliate developed and organized an Eye Health Education Conference Program for Families of Children with Visual Impairments that was held on July 10, 2010, at the New York Institute for Special Education in Bronx, New York. The program for the parents included three keynote presentations and an open opportunity for discussion and Q&A with the audience. Invited speakers were experts in vision care from the medical and vision rehabilitations fields; ophthalmologists and optometrists gave presentations on pediatric eye conditions, the latest treatment methods and eye-health-related information such as low vision and nutrition; vision rehabilitation specialists who work with children with visual impairments from private agencies and schools in the New York City community also attended and exhibited.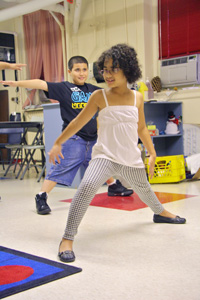 National resources such as National Eye Health Education programs' materials were displayed. We provided a very creative and interesting children's program which included a yoga class taught by a visually impaired instructor to encourage physical activity for visually impaired children, and Art Beyond Sight of NYC coordinated an activity that the kids designed their own clothing from stencils of dresses and suits and decorated them with a variety of materials.
Next week, August 13-14, you are all invited to join us in Minneapolis for a regional family conference hosted by one of our newly formed parents' associations in Minnesota, MN-NAPVI, led by David Bushland, President and organized with Pam Stern, NAPVI Region 3 Representative. Families living in surrounding states are welcome. MN-NAPVI will also be holding a special sports day to encourage children who are visually impaired to be physically active and to enjoy sports activities in collaboration with the United States Blind Athletes (USABA). The regional conference program includes national and local experts and resources from the vision education, rehabilitation and medical fields. Please see the posting of this event and others in the Activities and Events section of www.FamilyConnect.org, and sign up to receive email notifications whenever a new event is posted on the calendar!