Editor's Note: Today's blog post is from VisionAware peer advisor, Audrey Demmitt. Audrey is a wife, mother of three adult children, and a registered nurse living with retinitis pigmentosa. As an outdoor enthusiast and a counselor at SEE Adventure Camp, Audrey is pleased to share two great summer camps for your child who is blind or visually impaired.
Summer Camps for Youth Who Are Blind or Visually Impaired: Enrollment Time!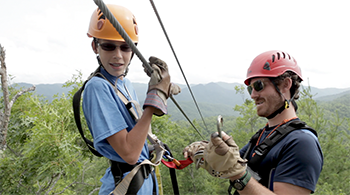 Attending summer camp is sort of a "rite of passage" for many children. It is a chance to try new activities, become more independent, and make special memories with new friends. Even youth who are blind or visually impaired can benefit from the rich experience of summer camp, and it is not too early to secure your child's spot at a camp suited for children with special needs. Let me tell you about two in North Carolina!
What Is SEE Adventure Camp?
SEE (Student Enrichment Experience) Adventure Camp is a four-night, five-day outdoor adventure camp for rising seventh through 12th graders who are blind or visually impaired. The camp is Sunday, July 23, through Thursday, July 27, 2017, at the Nantahala Outdoor Center (NOC) in Bryson City, North Carolina. The NOC has been an industry leader since 1972, providing guided outdoor adventures to visitors from around the globe.
Camp activities will include hiking local trails, scaling a climbing tower, a zip-line canopy tour, swimming at Lake Fontana, and rafting the famous Nantahala River. Campers will stay in bunkhouses at the base camp with around-the-clock adult supervision.
Camp instructors include certified Teachers for the Visually Impaired (TVI) and Orientation & Mobility Specialists, along with a few other adventurous adults, both blind and sighted. Trevor Thomas from Team FarSight Foundation, a blind hiker who has logged over 20,000 miles in the backcountry will be at camp this year. All trips will be guided by NOC professionals. There will be a ratio of 18 campers to ten highly-trained adults.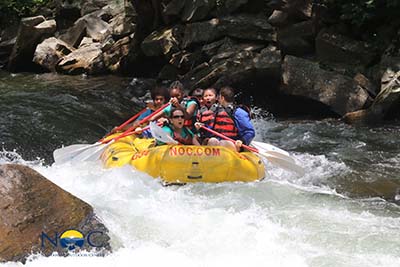 What Is SEE Camp Abilities H2O?
SEE Camp Abilities H2O is a week-long overnight water sports camp for rising seventh through 12th grade students who are blind and visually impaired. It will be held Sunday, July 9 through Saturday, July 15, 2017. It will be based at Camp Dogwood in Sherrills Ford, North Carolina (about an hour's drive from Charlotte and Winston-Salem).
Camp activities will include a review of basic swimming and water-safety techniques and instruction in rowing, kayaking, and stand-up paddle-boarding. There will also be opportunities to water ski, wakeboard, and take a ride on a pontoon boat. Some campers may even want to go fishing. There will be other activities and games in the evenings for all participants. Campers will share a dorm room with one other camper.
Camp instructors include certified Teachers for the Visually Impaired and Orientation & Mobility Specialists, along with Camp Dogwood's summer staff and a few favorite counselors from the SEE programs.
What Does It Cost to Attend These Camps?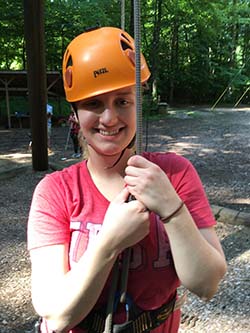 SEE Adventure Camp is supported by the IFB Solutions Foundation, with help from Team FarSight Foundation. All food, activities, and lodging are provided free of charge to campers. This year there will be a $50 registration fee to reserve your space in camp. There are only 18 spaces available for the 2017 camp.
SEE Camp Abilities H2O is also supported by the IFB Solutions Foundation and is free of charge for all students. Space is limited for the 2017 camp.
Who Is Eligible?
The number one requirement is the right attitude. Prospective campers should be active, engaged, and open to new experiences. Campers do not need previous backcountry or water sport experience, but they should be ready to get some! Here are a few more eligibility guidelines:
Campers should be mostly independent. Staff can help with orientation, medication, or gnarly knots in bootlaces, but campers should be able to handle most aspects of self-care independently.
Campers should be able to travel independently with minimal mobility limitations. This is an active program and campers will be on-the-go quite a bit.
Campers should possess verbal communication skills appropriate to their age.
Campers should not have behaviors that impede the learning of others. Staff are not able to accommodate campers who are aggressive, defiant, violent, or present a flight risk.
While staff will provide 24-hour supervision and emergency care as needed, they are not able to provide 24-hour nursing care to campers with significant medical needs.
Meet the Camp Director
The Camp Director for SEE Adventure Camp is Jay Hardwig (MA, COMS, NBCT), a board-certified TVI and O&M specialist with 20 years of experience in the field. He is passionate about his work and the outdoors, which makes for a great marriage of his skills. Recently, I asked him a few questions about these camps.
Audrey: What do you hope campers get out of the experience?
Jay: Adults are constantly conspiring to plop kids into the backcountry, and we're no exception. We do it for all the usual reasons: to build confidence and competence, to encourage teamwork, to improve problem-solving skills. These are essential traits for all children but perhaps more critical for the blind and visually impaired. Our campers grow up in a world that is skeptical of their skill. They hear too many messages of blindness as a disability and live in a world of overabundant caution with too many can'ts in the places of cans. Internalize this message, and it becomes all too easy to sit on the sidelines and let the world whirl by unheeded. In hitting the trail, we hope to fight this impulse; to expand possibility, reward curiosity, and nurture the spirit of adventure that beats in every heart.
Audrey: What is your philosophy/approach when working with youth who are blind?
Jay: Open a few doors, open a few minds, and then back off and let it happen. The kids will find their way.
For more information and eligibility guidelines, contact Jay Hardwig at 828-335-1136 or jhardwig@ifbsolutions.org.
Let's go to camp!
Learn More About Summer Camps for Your Child
Summer Camps and Programs for Children Who Are Blind or Visually Impaired
Physical Education and Sports for Students with Visual Impairments
5 Reasons Why Recreation Is So Important for Children Who Are Blind or Visually Impaired