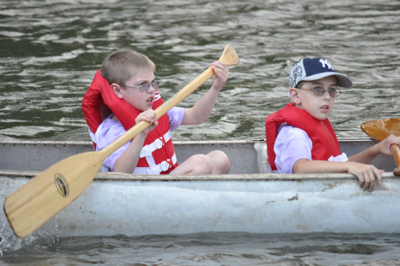 Who remembers having a tremendous summer camp experience? I certainly do. I was ten years old when I tasted freedom for a week alongside my best friend. It was summer church camp and by-golly I had a blast eating candy I purchased at the on- site store, talking for hours with my new friends on the bunk beds, and even unsuccessfully trying out for the talent show. I couldn't wait for the following summer, and the following, and the following. To this day, those friends hold a special place in my heart.
It's easy to see the benefits of summer camp. The taste of freedom provides a safe place for children to practice mostly independent self-care, problem solving, and decision making. The heaps of social time provide a space to forge lasting friendships. The recreation and leisure activities expose children to new adventures. If your child attends a camp for students with disabilities or blindness, it provides unique social benefits and training in the expanded core curriculum.
And a successful camp experience, well that provides soaring confidence.
So if your son or daughter is upper-elementary age or above, I suggest:
gathering information on summer camps,
talking with your social network (teacher of students with visual impairments, local clubs and organizations including a place of worship, your state's school for the blind, etc.) to learn about recommended camps,
looking at FamilyConnect's list of agencies providing summer day and overnight programs, and
reading blogger Audrey Demmitt's accounts of attending camp as a visually impaired child and working as a summer camp nurse.
Consider encouraging your child to make this summer one ripe with memories, independence, and adventure.