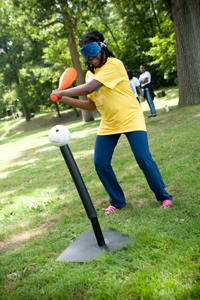 I remember well a former student of mine who had low vision and was football obsessed. He enjoyed throwing and catching with his dad, playing on a leisure league, and helping coach young children in football on a weekend community league. This teen was swollen with pride when the football team at his high school asked him to record game scores and assist in coaching.
He learned teamwork. He learned how to deal with winning and losing. He learned to submit to a coach's authority. He learned to lead as he assisted in coaching. And you know what else he gained from the hobby? He was physically healthy and fit; emotionally better-off thanks to the stress relief of the game and the friends he made on the team; and he recognized that a person with a visual impairment can succeed in almost all areas of interest with practice and accommodations.
With the right accommodations for the sport of choice, some pre-teaching of the game and accompanying physical movements, your child can develop physically, socially, and emotionally when involved in a sport. Give your child experiences in an assortment of sports (gymnastics, soccer, t-ball, basketball, swimming, track and field, wrestling, bowling, etc.) and find out where his or her interests lie; they may even evolve over time. Do a little research about adapting the sport for a person with vision loss, involving your child's Teacher of Students with Visual Impairments (TVI) and Orientation and Mobility Specialist (O&M instructor) in the process, and give her the opportunity to enjoy the sport.
Check out these resources to learn more about the benefits of team sports for children with visual impairments and to learn about adapting a sport.
Alright parent-experts, tell us about your positive and negative experiences involving your child who is blind or visually impaired in sports or other recreational activities.