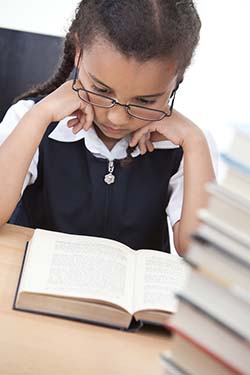 It's the middle of the school year and your child with low vision (who supposedly doesn't need a Teacher of Students with Visual Impairments) is academically struggling.
While your child could be any age, I wouldn't be surprised if you have a grade schooler and you're seeing the result of standard print size in text books decreasing from approximately 22-point font to 12-point font.
Here's the deal: According to the law, IDEA, if you suspect your child's education is affected by a possible visual impairment (including CVI, a brain-based impairment affecting how vision is processed), your child must be assessed for all blindness-specific services.
Furthermore, if your child was assessed in years past and did not qualify, but you believe your child may now qualify for services, step forward and speak out.
What you're experiencing is not uncommon. While a child whose only disability is total blindness will likely be easily identified as one who requires a Teacher of Students with Visual Impairments (TVI) and travel training from a Certified Orientation and Mobility Specialist (COMS), a child with low vision or a child with low vision and multiple disabilities may be overlooked for one or both educational service.
You now hold the key to your child receiving services. Know your rights and be an advocate for your child.
If you have a specific question or concern regarding the appropriateness of your child's services, reach out. Seek counsel by posting on the FamilyConnect message boards, commenting on this blog, or by sending a message to our familyconnect@afb.net or FamilyConnect Facebook page. We will respond. With your permission, we will also request counsel on your behalf from other parents and professionals of children who are blind or visually impaired on our Facebook page. (Thank you to the many parents and professionals who have lovingly provided direction, encouragement, and feedback.)
Lastly, the American Council of the Blind has an advocate program. If you call them at 1-800-424-8666, they will pair you with an individual who can advise you on your child's services.
Understanding Low Vision Services for Your Child
Low Vision Services: An Overview
Low Vision Devices: An Overview
Find Low Vision Services for Your Child Who Is Visually Impaired