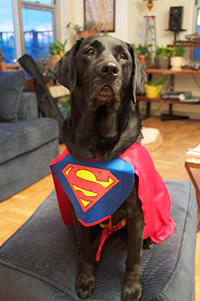 Got a scary photo or story you would like to share? FamilyConnect is inviting you to send photos of your very cute child in their Halloween costume. (Thank you to AFB's director of web operations, Crista Earl, for getting us started with this great picture of her dog guide, Paige, dressed as Superdog!) It can be from any year but we would appreciate a little description to go with it. We will post the pictures online with descriptions for the enjoyment of those who cannot see the photo.
So just send photos to me at familyconnect@afb.net with the subject line "Halloween" to let me know that it is OK to post them. We will create a very cute and somewhat scary Halloween page for everyone to enjoy.
Got a story to go along with it? Please send it along as well. It can be ideas that you have used to assist with making the holiday enjoyable or things you have learned along the way.
I look forward to seeing your photos!