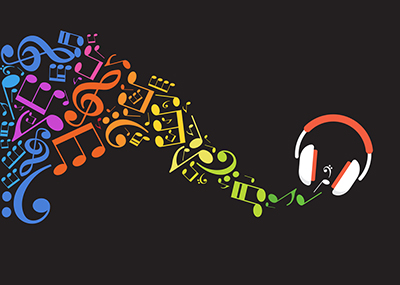 This past summer, we discussed the unique value that music lessons and music therapy add to your child's expanded core curriculum (ECC). We highlighted some of the ways that private music lessons, music therapy sessions, and access to music programs in elementary and high schools across the country can enhance social interaction skills, regulate emotions, and fine-tune communication skills. Music contributes to another very important aspect of the ECC that sometimes we end up putting off until far too late in the game: career education.
Also this summer, in its fourth annual session, the Lighthouse for the Blind and Visually Impaired in San Francisco invited 14 young, yet ambitious, aspiring professional musicians, ages 16 to 25, to attend their week-long Blind Music Academy camp. At the end of the week, they organized and performed in three public performances. Most importantly, each young musician shared a common passion and goal to turn their musical talents into a career.
"Here at the Lighthouse, we take blind people's careers and ambitions really seriously, and employment is such an important part about what we do for our people here," Lighthouse-SF Director of Communications, Will Butler said. "We know that with music that there is a ton of interest and still many misconceptions about how blind people learn and appreciate and benefit from music."
Music Literacy: Competing in the Same Arena
Throughout history, before the proper digital technology was in place, blind and visually impaired musicians learned music through ear-training or basic memorization. Without the ability to see the music, they were unable to read the notes. Many sighted musicians learned by these less concrete methods too, so while there is nothing "wrong" with this learning technique, music illiteracy can impose unwanted limitations. Just like anything else, music has its own structure and language, and music theory comprehension and composition require one to at least familiarize with reading and writing the musical language. For blind and visually impaired individuals, reading required adapting visual notes to braille music notes, large print sheet music, and other music literacy tools. With Dancing Dots, one of the leading music technologies in the market, blind and visually impaired aspiring musicians are able to learn how to read and write music. The program, designed and created by blind musician and systems analyst, Bill McCann, has placed blind musicians on the same playing field as their sighted colleagues.
Recognizing the immense progress that Dancing Dots users have made in their musical literacy, the Lighthouse decided from the first year of their camp to join forces with Bill McCann. They invited him to direct and lead the Music Academy, keeping a strong focus on the value and necessity of strengthening one's music literacy.
"This collaboration with Bill McCann is basically an attempt to give young musicians in our network who are very serious a venue to learn competitive skills for musicianship," Will said. "He gives students access to things like braille music, large print music, musical notation on digital devices, vibrating metronomes, and other adaptations like non-visual musical tools, which allow blind musicians to not just be performers but to be really serious composers and readers and competitive in the actual job market for working musicians."
Getting to the Groove
Before admission to the Blind Music Academy, applicants are asked to share their personal musical education history, their musical ability level, their learning patterns and preferences, musical literacy skills, experience in reading or writing music with assistive technology, and goals for attending the camp. They are also asked to provide a written referral from a music teacher, educator, teacher of students with visual impairments, or parent. This process allows the Music Academy to invite a wide range of applicants with diverse backgrounds and musical experience to the same location so that they may learn from one another, network across the group, and then come together on the last day and on the same stage to do what they do best.
"We look for students who have some background in music literacy but that being said, there's always a range; the advanced students always end up becoming mentors for the less advanced students, and the less advanced students often end up teaching the more advanced students certain things," Will added.
Some campers are skilled in production, while others have a solid understanding of digital audio workstation software. Some are admitted for their fluency in specific genres like classical or jazz, while others are charismatic performers. Regardless, they all find time to jam together on stage during the week, whenever there is free time. Each kid brings their unique skill set to benefit the group, and that's where the music really comes alive.
Performing in Nature
Performing live can be intimidating, even veteran musicians will tell you that. Bill McCann, however, a professional trumpeter and composer himself, has a balanced, comfortable philosophy for performing live that he shares with the young musicians. Rather than assigning music, he encourages them to choose their own music to perform. He wants them to be creative with it and choose something that comes alive for them so that the audience can feel that spirit as well.
The location of the camp gives these kids a free space to experiment their different performance styles. Surrounded by the Redwoods near Napa, the Enchanted Hills Camp gives students a chance to play their hearts out in the middle of the wilderness, feel the vibrations of their music bounce back toward them from tree trunks, and whistle past them in the wind and through leaves. It's the perfect spot to send your music out into the universe and then wait to see how it responds. It welcomes performance that's spontaneous and free.
Will Butler has witnessed how performing in this environment has impacted the members of Music Academy. "You cannot emphasize enough how confidence-boosting this experience can be for a young person that has maybe never been allowed to go stand on stage without someone's help."
The Youth Music Academy is always evolving and even though the fourth session just came to a close, the Lighthouse is looking for new ways to innovate in 2018. For more information about the Youth Music Academy and to access the 2018 application form, please contact Taccarra Burrell, Program Coordinator at Lighthouse-SF, at tburrell@lighthouse-sf.org.
Enjoy the Youth Music Academy concert.