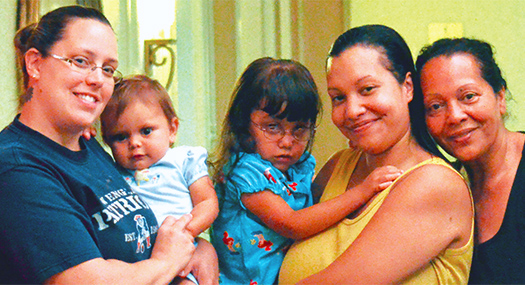 We are organizing a phenomenal conference program for you and your family. The conference welcomes parents of children of all ages with visual impairments, blindness, and additional disabilities including siblings and extended family and friends.
The conference location is at The Chicago Lighthouse for People Who Are Blind or Visually Impaired, close to the conference hotel. The NAPVI discount room rate is $169/night at the Chicago Marriott at Medical District/UIC. We will be in Chicago's "Little Italy" that boasts over 50 restaurants and bars within walking distance.
This year's conference will be a great opportunity for families to network with families throughout the United States and around the world. You may meet a family who has a child with the same cause of visual impairment as your child at our "Eye Condition Networking Parent Groups," one of many popular sessions. Pediatric ophthalmologists will present information about the eye conditions at each session. Representatives from many of the national organizations for specific eye conditions will participate in the program.
This is a great opportunity for you to learn more about raising a child with visual impairments. There will be inspiring presenters and fascinating workshop session topics and speakers, all of whom are experienced parents and professionals in the vision and health fields. They will share their knowledge with you, whether your child is a newly diagnosed infant, an exploring toddler, or a teenager preparing for his or her future.
The Children's Program offers a variety of interactive opportunities for all ages including siblings. Organized by the United States Association of Blind Athletes (USABA) and Camp Abilities, the program includes sports such as Beep Baseball, Goalball, Yoga, Track and Field, and Beep Kickball, as well as recreation and arts activities.
Please visit us at www.lighthouseguild.org/napvifamily2015 for conference program details and updates.
We hope you and your family will plan to join us in Chicago!
Susan LaVenture
Executive Director NAPVI