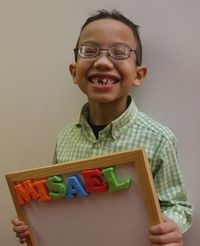 Three or four years ago I was helping teach a summer camp for children who are blind. My son was the right age for the camp, but developmentally he wasn't ready. The kids were learning how to take a bus, prepare meals, and even ride tandem bikes. While I was captaining one of these bikes, I felt sad because I didn't think Eddie would be able to ride a bike like this…even though he'd love it.
We had a handicap bike stroller he really enjoyed over the years. We received the stroller when he was four, and now that he was eleven, I wasn't so sure about the weight limit. It may be able to hold him, but my legs certainly weren't able to pull him. With him aging out of the stroller, and a traditional tandem bike too challenging for his physical needs, I wasn't sure we had any other good options.
Surprisingly, during the past school year, Eddie has become very fond of a recumbent exercise bike we had sitting around. He would seek it out no matter what room we stored it in, and eventually it took up prime real estate in our living room. We again found ourselves considering bike options, and with some brainstorming help, we found a solid option through Blackbird Bikes. They had a tandem recumbent bike that would fit Eddie and his very tall Dad.
Unfortunately, the solid option was going to be over three thousand dollars. We felt that saving up the money and purchasing the bike would be well worth it, but it would take quite a bit of time. We knew that Eddie would enjoy a bike, and it would be fun for us to go riding as a family. However, we also knew the benefits weren't just about having fun.
Eddie doesn't exercise much and is limited by motor delays. This would be a path to staying healthy.
Eddie seeks out sensory stimulation in spinning chairs and playground swings. This would be a path to age appropriate sensory fulfillment.
Eddie isn't a member of any clubs or groups. This would be a path to joining the Special Olympics Cycling team. We could cheer him on from the sidelines instead of the other way around.
Eddie's community involvement is minimal and his peer interactions are few. This would be a conversation starter for people of all ages and a way to make him a visible, active part of our town.
The more we considered why he needed this bike, the more we knew he had to have it. We sought out organizations that awarded grants. We advocated for it being a path to independence and greater community involvement. We were met with positive remarks and the understanding of many. Because of that, Eddie's bike was funded by the Northwest Association for Blind Athletes and the Pacific Foundation for Blind Children. Both knew what it would mean to Eddie and to us. Both understood the importance of recreation, independence, and community.
We've already enjoyed rides about town, to school, to church, to sporting events, and more. We're extremely grateful for the grants awarded and we continue to push for more opportunities for him to be included in all aspects of his life. We look forward to many cycling adventures close to home and further away. As Eddie would say, Ready…Set…GO!!!