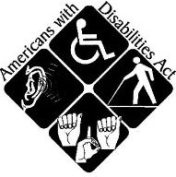 This time each year we celebrate the provisions of the Americans with Disabilities Act (ADA). Each year—is that really necessary? YES! The ADA is the United States of America's first comprehensive civil rights law protecting people with disabilities from discrimination. I know you'd agree—that can't be over-celebrated!
Provisions of the ADA
And just what are the provisions of the ADA for those who are blind or visually impaired? In summary, the ADA states
people who have disabilities have equal rights to access and utilize public spaces and programs,
disabilities cannot disqualify people from getting hired or promoted, fair compensation, and job training, and
employers must provide reasonable accommodations for employees with disabilities.
Provisions Pertinent to Children
So, while the Individuals with Disabilities Education Act mandates a free and appropriate public education in a least restricted environment, the ADA mandates children with disabilities have equal access to community buildings, activities, materials, and instruction.
This is one reason you'll find inclusive recreational activities, braille menus, and accessibility features such as wheelchair ramps and braille room numbers in public spaces.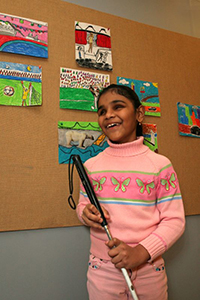 That's not all—think access to story time at the public library and the school library, to the menu at a restaurant and the school cafeteria, to information about procedures at the doctor's office and at school with the nurse, to safe bus use throughout the community and to/from school, and to swimming instruction in the community pool and the school pool.
To learn more about the ADA's provisions addressing school access, read Pacer Center's ADA publication.
Provisions in the Workplace
Now, let's think beyond school and children's play spaces and programs. Let's take a peek into the future at your child's adult life in the workplace.
You may have many questions about how the ADA will protect your grown child. Perhaps you wonder
To answer these questions and more, please read APH CareerConnect's Frequently Asked Questions Regarding the Americans with Disabilities Act.
27 Years of ADA
Twenty-seven years ago President George H.W. Bush signed into law the Americans with Disabilities Act (ADA). Today, we are still celebrating!
Related Resources
Disability Rights Resources for People with Vision Loss
Know Your Rights As a Parent of a Child with a Visual Impairment