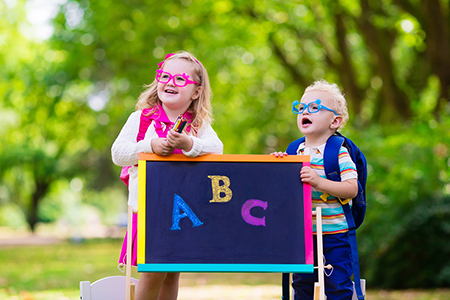 The "big" backpack on your tiny little guy is a visual reminder of your baby entering a big-boy world and all the growth and maturation soon to come. He is heading to preschool—it certainly provokes every last emotion, doesn't it?! It's exciting. It's nerve-wracking. It's bitter-sweet.
It, however, needn't be improvised. You can work alongside your child's teacher of students with visual impairments, orientation and mobility specialist, and early intervention specialist to help prepare your child for the social, physical, and educational aspects of preschool well before the school year begins.
Consider the following:
Lastly, parents and family members, as you embark on your child's first experience with school, prepare to advocate for your child's needs and educational rights along the journey. You are, after all, your child's strongest advocate.
Resources for Preparing Your Blind Baby for Preschool
Getting Your Child Ready for Preschool
Preschool Anxiety for Parents of Toddlers Who Are Blind or Visually Impaired
Considering Preschool for Your Visually Impaired Toddler