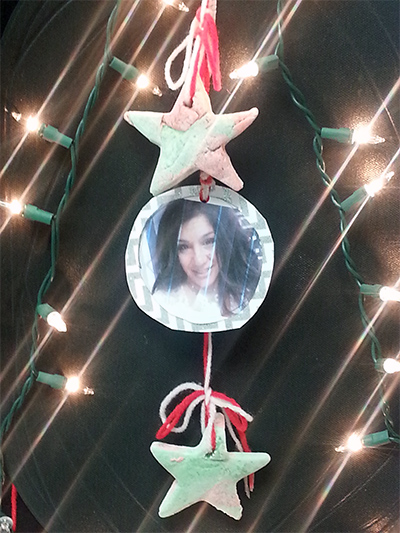 Hello everyone and welcome back to Maria's sensory activities! Here is another one of my very favorite activities especially around the holidays!
Remember to include your child to the best of their ability. Use descriptive words such as "soft" for the flour, "grainy" for the salt, "slimy" for the oil, "cold" for the water, "minty" for the smell of peppermint. Allow your child to explore the ingredients.
Here's what you'll need:
2 cups plain flour
1 cup salt
1 tbs oil
1 cup cold water
2 drops liquid food coloring (red, green)
6 drops of peppermint oil (I bought mine at GNC) or extract
Star-shaped cookie cutter or any other shape of your choice
Straw
Pretty ribbon
Small picture of your child
Now for the fun!
Combine plain flour and salt.
Add water, food coloring, and oil. Mix until ingredients are combined.
Knead well. If consistency is too wet add a little plain flour.
Roll into a ball and pat flat (we like to sing as we tap).
Cookie-cut the flattened dough and lay on parchment paper or cookie tray. Poke a hole with the straw through one of the points of the stars (this is to thread the ribbon through once they're dry).
Flip stars each day…it takes about 10 days to dry.
Once the stars are dry, you're ready to thread them into an ornament. Thread the ribbon through the hole, then thread the same ribbon through the hole in your child's picture. Tie a pretty bow, and voila!
Enjoy the smelly stars!