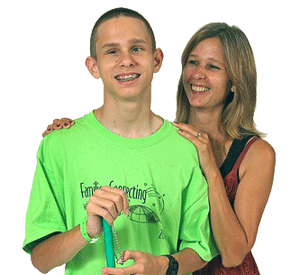 Here I am in the lobby of the Crystal Gateway Marriott Hotel in the greater area of Washington, D.C. Day two of the three-day American Foundation for the Blind (AFB) Leadership Conference is complete, and I have eagerly listened and learned from many leaders in the field of blindness and visual impairment.
You see, you have around 400 courageous advocates in one place, and it is inspiring. I wish you could be here and experience it. You'd see national, state, and local organizations, programs, and agencies unified and represented, as well as Teachers of Students with Visual Impairments (TVIs), Certified Orientation and Mobility Specialists (COMS), and university professors.
And what am I hearing from these educators, strategic planners, and policy-makers?
I am hearing that you are the key to your child receiving quality, appropriate services.
While a child whose only disability is total blindness will likely be easily identified as one who requires a Teacher of Students with Visual Impairments (TVI) and travel training from a Certified Orientation and Mobility Specialist (COMS), a child with low vision or a child with low vision and multiple disabilities may be overlooked for one or both educational service.
Here's the deal: According to the law, IDEA, if you suspect your child's education is affected by a possible visual impairment (including CVI, a brain-based impairment affecting how vision is processed), your child must be assessed for all blindness-specific services.
Furthermore, if your child was assessed in years past and did not qualify, but you believe your child may now qualify for services, step forward and speak out.
Again, you hold the key. Know your rights and be an advocate for your child.
And in the spirit of advocacy, you can advocate for all students with sensory disabilities receiving quality free and appropriate services by advocating for the Cogswell-Macy Act.
If you have any questions, please comment below.