We are pleased to introduce you to another Tele-Support Group and encourage you to participate as it is a great way to meet others to provide both support and information.
By Sheri Stanger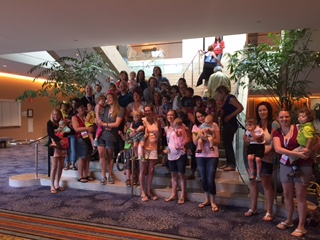 Time passes so quickly. One moment you're holding your newborn baby – receiving a diagnosis that changes your world. You're incredibly busy – the medical, educational and therapeutic world consuming much of your energy and then suddenly you find yourself with an adult. As the parent of a 22 year old daughter with CHARGE syndrome, a rare congenital disorder and one of the leading causes of deaf-blindness in the USA, I look back and sometimes wonder how we got here. Don't get me wrong – my daughter is fantastic! She's strong willed with a fabulous sense of humor and very charming. Yet we've had our struggles over the years and many continue into adulthood with new challenges to face. But what did we do to make it through these past 22 years? Going at it alone was simply not an option and even with wonderful family support and a great husband, the need to talk with and share stories with other people going through similar experiences was crucial to our wellbeing and the development of our daughter.
CHARGE is medically and developmentally one of the most complex conditions known. It's a rough road to travel but we received immeasurable support through the CHARGE Syndrome Foundation. The Foundation is a not for profit run by volunteers the majority of whom are parents along with some professionals from the field of deaf-blindness. www.chargesyndrome.org. The Foundation's Vision is simple – "A Better World For People with CHARGE Syndrome". Simply stated, it is not easy to achieve without a great support network of professionals and families. The Foundation strives to improve the lives of people with CHARGE syndrome through outreach, education and research. It is a membership-based organization that survives through the fundraising efforts of its members. My husband is a past president and a long time board member and I currently work for the Foundation as the Director of Outreach. In my role as Director of Outreach, I want parents to have the necessary information to advocate for their child. I want parents to be connected to each other. I had many opportunities to network with parents over the years. We shared our set backs and successes together and it kept me going.
Over 5 years ago I was approached by the Children's Vision Health Initiative through the Lighthouse/Guild's (formerly the Jewish Guild for the Blind) National Tele-Support Network to facilitate a CHARGE syndrome group and I jumped at the chance. It seemed like a wonderful opportunity to connect parents on a weekly basis to share information, stories and support. I'm happy to say that 5 years later, I still have a strong core group of parents that meet on a weekly basis. We've had speakers talk with us on various topics ranging from Toilet Training to Feeding Issues to Behavioral Challenges. We've even had opportunities to meet in person at the biennial International CHARGE Syndrome Foundation Conferences. The parents on the call have become a true support network to each other and even though I facilitate the group, I have benefitted immensely. Our group is small and we would like to add more parents to our discussions. Anyone that has a child with CHARGE syndrome of any age is welcome to be part of the group. Please contact me if you have an interest in joining.
Time passes quickly! We blink and our kids are out of school seeking a quality lifestyle with the necessary supports. Parents need those supports too. I know I did and I am thrilled to be giving back in my role as both Director of Outreach and Facilitator to the CHARGE syndrome tele-support group. I hope any family member reading this will be encouraged to connect with other parents.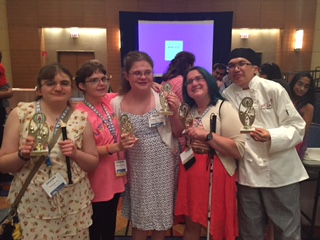 Sheri Stanger, M.A., Ed.M., is a certified School Counselor and mom to a 22-year-old daughter with CHARGE syndrome and a 19-year-old son. She is the Director of Outreach for the CHARGE Syndrome Foundation, current board member and past president of the National Family Association for Deaf-Blind (NFADB) and CHARGE tele-support group facilitator. She can be reached at sheri@chargesyndrome.org or by phone at 1-855-5CHARGE (855-524-2743).
For more information on CHARGE syndrome visit: www.chargesyndrome.org Join our CHARGE Syndrome Facebook Group at https://www.facebook.com/groups/chargesyndrome/