You're here because your child has recently been diagnosed with an eye condition. You likely weren't at all prepared for the emotional impact of the diagnosis, you certainly can't foresee coping with vision loss, and you don't understand what to do next. You feel consumed with questions; lost at sea.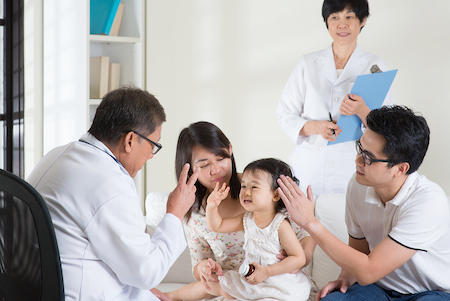 FamilyConnect Can Help
If this is you, I am so glad you found us. We are FamilyConnect, a place for parents of children (from birth to adults!) with visual impairments. Here, you're far from alone. You can journey alongside both experienced and brand-new families, all of which include children who are blind or visually impaired.
Here's a brief tour. You can join the community, browse and ask questions on the message board, and peruse info and resources by age range or on the topic of education, multiple disabilities, or assistive technology.
Common Questions from Parents of Children Recently Diagnosed
Know what else I think you'd enjoy reading? This resource: The Most Common Questions Asked by Parents of Children with Visual Impairments. Because let's face it, what even is a Functional Visual Evaluation? What is nystagmus? What can your child see? Should your child play sports? Can your child's vision be restored? Yes, we tackle these questions and more.
What other questions might you have?
What are your other questions? Add them to the comment section, and I will be happy to provide you with additional resources or recommendations.
You're not alone.
Additional Resources for Children Recently Diagnosed with a Visual Impairment
What to Expect at the Eye Doctor's Office
Low Vision Services for Children
Overview of the Service System for Children with Visual Impairments