You intend to teach your child who is blind or visually impaired orientation and mobility concepts, so you'd like to use compass/cardinal directions to state which direction you're driving or walking.
The only problem is, if you're like most, cardinal directions aren't exactly on your list of "things mastered." The temptation arises to simply let the mobility specialist help your child master this technique in due time.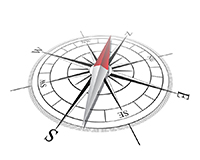 Not so fast! With a little energy spent on learning how to identify which direction you're facing and using this information to orient to each direction, you'll grasp the subject and be prepared to instill a firm understanding of compass directions to your child.
This is a worthwhile investment of your time because while a sighted individual can travel by reading street names from a distance, turning left "at the corner near the car dealership," and by using additional visual clues, an individual who is blind or significantly visually impaired will travel with a handful of tools and techniques that do not require sight, including use of cardinal directions, a compass, and a GPS. On an unfamiliar route or when simply disoriented, your son or daughter can use a compass and GPS to reorient and travel with confidence.
So, how can you master cardinal directions and teach them to your child? Enter FamilyConnect's new article: "Never Eat Soggy Waffles": How to Master Cardinal Directions.
Read it to learn:
the progression of mastering cardinal directions,
tools persons who are blind or visually impaired use to determine which direction they are facing, and
use of the sun as a reference.
Don't let cardinal directions intimidate you. Master them and use them intentionally in ear-shot of your child with a visual impairment.
Additional Orientation and Mobility Resources
Orienting to a School Building
Early Orientation and Mobility Concepts for Young Children Who Are Blind or Visually Impaired
Why Might My Child with Low Vision Need Orientation and Mobility Training?
The School Year Has Begun and Your Child Has No Blindness Services