You want to intentionally teach your child orientation and mobility skills, so you invite your child who is blind or visually impaired on motivating excursions such as practicing a trick-or-treat route or walking to the neighborhood park.
To help your child orient to the area and to provide instruction in utilizing a map, you decide to create a tactile map.
But let's face it—if, like me, you're lacking a crafty side, the thought of creating a map that your child who is blind or visually impaired can utilize is a wee bit overwhelming. The good news is there are tactile map-making kits such as APH's Wheatley Tactile Diagramming Kit; the bad news is two-fold.
You may not own a tactile diagramming kit
Your tactile diagramming kit may not create a permanent tactile map, which is what you want to create today
Enter FamilyConnect's new article: Creating a DIY Tactile Map for Your Child Who Is Blind or Visually Impaired. It's here to save the day.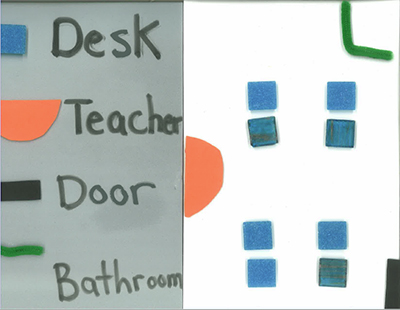 Read it to learn:
Key factors to consider when making a tactile map
Suggested supplies
Appropriate situations for creating a tactile map
You'll do great! It may not look pretty, but we non-crafters can sigh with relief… it doesn't need to look pretty!
So, show us the tactile map you make by emailing it familyconnect@afb.net, and I'll share it to inspire our Facebook community.
Additional Orientation and Mobility Resources
Adult with a Visual Impairment Describes Learning to Use the White Cane While Using a Motorized Wheelchair As a Teen
Early Orientation and Mobility Concepts for Young Children Who Are Blind or Visually Impaired
Why Might My Child with Low Vision Need Orientation and Mobility Training?
Inspired by the Holidays: Take an "Autumn Walk" and Encourage Your Child Who Is Blind or Visually Impaired to Discover the Sights, the Smells, and the Feel of Fall