Hi! I hope you are all having a good summer. I am very pleased to introduce this month's expert, who will write about a subject that is important for families: summer jobs and internships. Daniel is sixteen years old, and interned in the AFB web department this summer.
With the summer winding down, maybe some of you (or your teenagers) have thoughts on how your child's summer job experience went. We would love to hear your stories, whether as comments below, or as blog entries of your own. If you have an experience to recount, please email us at familyconnect@afb.net or reply below!
FamilyConnect's "Transition to Independence" section for Teenagers has some great resources on summer programs, and heading to work. And if you live in an area where you're not likely to run into a professional who is visually impaired on the street, then explore the online resources of APH CareerConnect®, where your child can explore career possibilities further, read success stories, and find a mentor who is visually impaired.
Also, be sure to check out Aaron's Adventures in Employment, a humorous series of video and audio dramas about a teenager dealing with putting together a resume, getting through the interview process, and learning how to succeed on the job.
---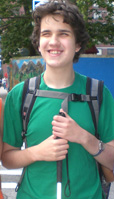 My name is Daniel Gillen, and I am a sixteen-year-old rising high school junior. I have been totally blind since birth, and I have managed to advance into the workforce after completing one half of high school. I live in New York City, and I attend The Beacon School on Manhattan's Upper West Side.
Since the end of elementary school when I left an all-visually-impaired class, I have had a steadily growing interest in technology, math, science, and engineering. These interests spurred from my mastery of screen readers, braille note-takers, and other adaptive technology products which enable me to maintain above-average grades in all classes.
Back in grade school when I was wondering how a sighted teacher would set up my document pages on a computer in typing class, I was thinking of how I would ever be able to take total control over the computer without sighted intervention; that only came during the summer of 5th-grade graduation when I was shown basic JAWS commands, after which I taught myself the vast remainder. This ultimately led to my first paid internship; I am working in the AFB web department, so I make use of JAWS on my office computer for virtually all tasks. I put together spreadsheets with updates to the AFB Product Database, as well as some of the most visited pages on AFB's website.
My current internship working for the AFB is overseen by VISIONS, an organization with a similar mission which has been placing high school and college interns all over New York City. This past March, Lighthouse International, where I had gone to preschool and where I have been taking music lessons for ten years, held a job application fair. Unfortunately, I received the braille form after the application deadline.
However, in June, my father, while coming home from work, met Crista Earl, Director of Web Operations at AFB, on the street. He first described her to me as a woman with a guide dog. He and Crista had conversed for a long time about my interests in technology, and after finding out her title, my father asked me to email her about possible interview times. The interview followed soon after my 10th-grade year ended, and the first orientation followed that. By July 7, I was physically oriented to my workplace, and I had begun my first work.
AFB was not new at this point in time to my family or myself. In 2008, my guidance counselor had informed me about a summer workshop in Provence, France with AFB and L'Occitane. The program was called Provence dans tous les Sens ("Provence in Every Sense"). Luckily, this was the last year of this once-in-a-lifetime experience. When applying, I was originally not selected. However, one person dropped out, so I was called for a runner-up interview four days prior to being accepted. My mother and I will never forget the experiences we had on the trip. Though farther from home than ever before, it provided a wealth of knowledge that inspired in part our current way of life.
Here is one final note on jobs and internships. This past year, I performed 50 hours of community service at the Jewish Guild for the Blind. This gave me the opportunity to do multiple tutoring activities, including preparing non-English-native-speaking adult students for GED testing, as well as helping them with ESL classes. I saw community service of any kind as a time to share with others the knowledge which I have been fortunate enough to gain. Whether a paid internship, community service, or volunteering, any job may be considered fulfilling if it is enjoyable by the employee. Jobs such as mine are meant just as much to fill spare time during the summer as they are to earn money.