As parents of children with special needs, we often feel the need to miss out on daily outside activities, and over time, we may feel that church-going is not a priority. Some families feel like they're not welcomed at church or that there aren't enough (or any activities) for their child. We have felt the same way over the years. No, that didn't stop us from going, but it does make you wonder, "how are they accommodating for our son?"
When we started looking for a new home church, we found what we were looking for at First Baptist Church in Waxahachie. Everyone there has always been welcoming, thoughtful, and willing to pray for our son from the time he was born. We have made new friends and our son JD, who was born deaf-blind with CHARGE Syndrome, has found a place where he can learn more about God.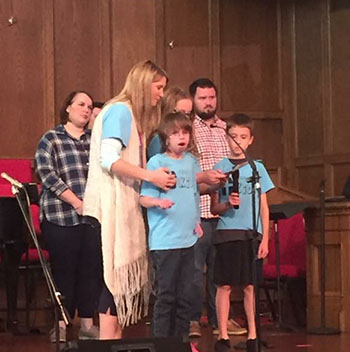 JD has been part of his Sunday school class and worship service for the last three years. He is now an official helper with the message notes. He places them in each seat before the worship service begins. He loves to feel the vibrations of the music and will sign along with the words.
JD recently played a special part in the children's program during worship service. Using JD's iPad (that serves as his voice for communicating), we programmed his friend Dawson saying JD's verse. Along with his sister Olivia and his friend Zane, JD used his iPad during the program to share his verse, "Let the little children come to me."
Don't feel like your child can't participate in activities because of their disabilities. Instead, use their many abilities to make it work. JD showed everyone through his eyes and ears how he communicates. I have learned a lot on how to enter JD's world, and I have learned about humility, kindness, and patience.
Get Your Child Involved
Parent's Perspective: Becoming Part of the Community
Helping Your Child Meet Others
Helping Your Child Who Is Blind or Visually Impaired Learn How to Make Friends