Editor's note: Today's blog post is from Amanda Bowdoin, M.Ed., a certified teacher of the visually impaired, and mother of JD, her 11-year-old son who has CHARGE Syndrome and is deaf-blind.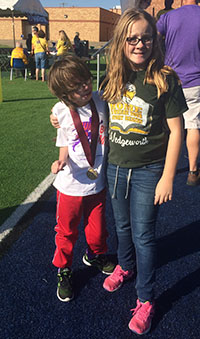 Bound By No Limits
"Bound By No Limits," that was the theme for the 18th Annual Sports Extravaganza for the Blind and Visually Impaired. This annual event provides opportunities for students with visual impairments to excel and show off their talents in a variety of activities that will encourage a more active lifestyle by participating in leisure, recreation, and competitive sports. This event by Region 10 and the Lions Club is planning to open up more opportunities for our children.
This year's theme has been my favorite theme so far. My son, JD, has gained confidence, self-esteem, and recognition. He won all gold medals in tee-ball strike, tennis ball throw, and 25-meter walk. At every annual meeting, we always make sure one of these areas are addressed in his goals.
Every one of these athletes brings smiles, joys, and cheers for their accomplishments. Family and friends come to watch and meet other parents with common ideas and to make new friends. JD got to see his friend David, who also has CHARGE Syndrome. They are both on different levels, but that doesn't matter to either, just the friendship. Both mom and I are able to talk about their educational needs and get ideas. She got to run with her son David on the 200-meter run. One day, I want to run with my son, and I know that I need to be patient and accept that walking is best for us now.
The Importance of Recreation for Your Child
5 Reasons Why Recreation Is SO Important for Children Who Are Blind or Visually Impaired
Social Life and Recreation for Your Grade Schooler with a Visual Impairment
Physical Education and Sports for Students with Visual Impairments
Summer Camps and Programs for Children Who Are Blind or Visually Impaired