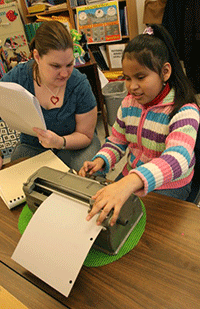 I am no stranger to the theme of independence. My husband is a member of the United States Air Force. We live on an American military base in Japan. I can't leave my house without being reminded of the independence I have been gifted, for I live alongside those who protect it and sacrifice for it. Oh, how thankful I am!
And there's the independence my husband and I daily (okay, hourly!) instill in our preschool children. For example, I often see a dreadfully messy room, and while it would be ten times less of an ordeal if I quickly reorganized it, I choose to call out, "Sweethearts!" (I say 'Sweethearts' on a good day or I resort to their first and middle names on a frustrating day), "Please come to your room and put away your clothes and toys." You parents know, I'm trying to think long-term and prepare my children for independent adult life. I want my children, and my students who are blind and visually impaired, to experience the freedom, ability, and self-esteem that come from accomplishing tasks independently.
It is this kind of independence Louis Braille provided for those who are blind or visually impaired when he developed braille. For those whose visual impairments make reading print impossible, uncomfortable, or slow, the mastery of braille opens up a world of independence. Instead of relying on others for reading and writing or having to solely rely on technology, a person who is visually impaired can rely on literacy achieved through braille. Now he can produce braille and read braille books, magazines, recipes, labels, calendars, lists, reports, menus, maps, and information. He can independently create shopping lists and record phone numbers "on the go" with a slate and stylus or a braille note taker. He can use a note taker with a refreshable braille display to record notes in school or at a work meeting. He can organize print material with braille.
Thanks to the concept of Louis' braille code, no longer does a visually impaired reader need to struggle to read with his nose nearly touching a library book, no longer does he get headaches from the eye strain induced by print reading, and no longer is it a given that he will read at a significantly slower pace than his peers. Yes, a braille reader has definitely been given a gift. Thank you, Louis Braille, for this gift of independence.
While the importance of braille and the independence it offers will remain the same, the braille code itself evolves, though infrequently. The Unified English Braille (UEB) code was established in 1995 to simplify rules and reduce ambiguity, and to harmonize the braille code for all readers and writers of English braille. Come January 2016, an updated UEB code will officially launch. This time the changes include adding technology symbols and removing several contractions. Thankfully, braille will continue to remain relevant in our information and technology age.
So, happy birthday and a robust thank you to the late Louis Braille! Thank you for developing braille, providing literacy, and furthering independence for those who are blind and visually impaired.
For more information on UEB, listen to AFB's free webinar A Brief Overview of Unified English Braille. Additionally, if you are the parent or teacher of a child with a visual impairment, please utilize FamilyConnect's Literacy Resources. And if your child attends school with sighted students, the Braille Bug® is a great way for children to learn more about braille through accessible puzzles, riddles, trivia, and secret "coded" messages.