Editor's note: AFB FamilyConnect knows sports and physical education have benefits aplenty for children who are blind and visually impaired. In an effort to inspire parents of children with visual impairments to encourage participation in sports, we enthusiastically share Paralympian swimmer, Letticia Martinez's story.
Letticia Martinez Shares Her Story to Encourage Parents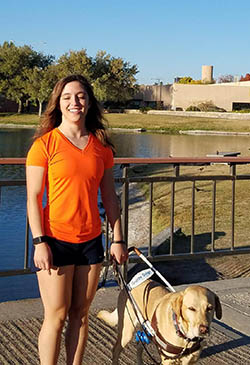 Often time people assume that being blind inhibits them from participating in most activities. However, my parents thought otherwise.
Honestly, they were terrified when they discovered I was blind; they needed time to accept my disability because finding out your child is blind can be devastating. Once they finally accepted my circumstances, they refused to treat me special. They made sure that I received the proper tools and help I needed to be successful in society, and as a human—such as learning mobility (how to properly use a cane) or learning how to read braille. They also insured that I was taught the basic tasks that kids learn from watching their parents or other individuals.
My Typical Childhood
My parents, Steve and Lila, put me in many activities, sent me to blind camps that were geared towards physical fitness, introduced adaptive sports as well as focusing on teaching independence. My parents taught me that it was okay to be different and run into walls occasionally.
They exposed me to as many real-world opportunities as possible, to emphasize the ability to adapt and be able to be confident in any situation I may encounter. For example, when I was a kid, I was enrolled in tap dance, ballet, an intermediate gymnastics class, beginning swimming lessons, and they encouraged me to be as active as I could—you see, when I was little, I was very hyper! I would jump rope for fun, try to play soccer, run around the playground at school with no cane; anything my peers were doing I would attempt.
Accepting Myself
Of course, in the midst of all of these experiences, I still struggled to accept my disability. I would pretend I could see, and even persuaded people into thinking I could. With the guidance of my parents, and all the exposure I received from being involved in camps, clubs, and other activities, I was gradually able to fully accept my predicament. I continued to want to do anything that a sighted person did.
I grew to love being blind. It was exciting knowing I was different from the average person. Because of the challenges I had to face due to my disability, I became a stronger person, and I am forever grateful for the struggles I had to overcome. If it wasn't for the support that I received from my family, I would have never joined the swim team.
Swimming
Swimming has shaped who I am today. I am a member of Team USA and have been on the national Paralympic swim team since 2012. Being involved in swimming has truly changed my life for the better. I was even able to compete in two Paralympic Games, London 2012 and Rio 2016. These experiences are absolutely a dream come true. I never imagined such a wonderful thing happening to me. I am so honored to have represented my country at the world's biggest stage, twice. I have been given the opportunity to travel around the world and develop my character as a human. Being on an elite team has taught me key traits such as dedication, determination, how to work on a team, and how to be the best person I can possibly be. I am now training for Tokyo 2020 and going to DeVry University to get my undergraduate degree in Technical Management. After completing this degree, I will further my education by getting my masters and Ph.D. in sports psychology.
I am forever thankful for my parents pushing me to set aside my disability, learn the skills I need, and chase after my dreams because now I can say I am a successful blind young lady.
Suggested Resources
Recreation, Fitness, and Leisure and the Expanded Core Curriculum
Making Sports Accessible for Children and Teens Who Are Blind or Visually Impaired
Physical Education and Sports for Students with Visual Impairments