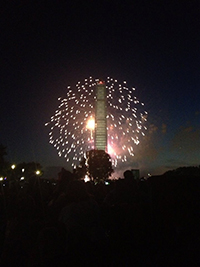 On the 4th of July, we in the United States celebrated Independence Day!
This is the holiday that traditionally launches summer fun, summer sports, and family vacations.
Under the warmth and brilliance of the summer sun, children enthusiastically participate in various sports such as swimming, softball, volley ball, soccer, running track and field events, horseback riding, roller skating, biking, and more.
For parents who have children with glaucoma or congenital cataract, it is important to ensure that your child's eyes are protected. They should be fitted with correct eyewear such as sunglasses, safety glasses when appropriate, and head gear to shield them from glare and head injury.
At night, if enjoying the warm glow of an open camp fire take special steps to safeguard your child's vision. Hot, sharp sticks used for roasting hot dogs and marshmallows as well as hot sparks can do immediate and irreparable damage to their vision.
If using sparklers or fireworks, children with low vision should be closely monitored so that they use these items in responsible and non-harmful ways.
With these precautions in place, you should have a very fun and eye-healthy Independence Day and fun-filled summer!
The Glaucoma and/or Congenital Cataract Telesupport Group is for parents of children diagnosed with glaucoma and/or congenital cataract. The primary mission of this group addresses specific issues which parents of children and children with glaucoma and/or congenital cataract encounter. Joining this group is FREE.
2016 brings hope for early diagnosis and the safeguarding of vision through public education and awareness programs, such as those through FamilyConnect with the American Foundation for the Blind and the National Association of Parents of Children with Visual Impairments of Lighthouse Guild.
For more information about childhood glaucoma, please visit:
FamilyConnect Glaucoma page,
Children's Glaucoma Foundation,
National Association for Parents of Children with Visual Impairments of Lighthouse Guild,
National Eye Health Education Program.