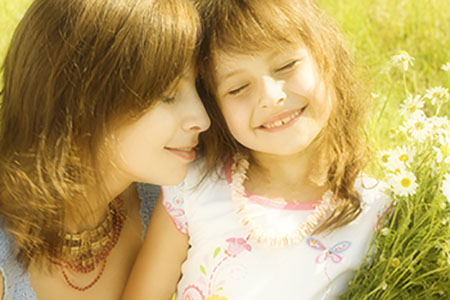 Since having my second daughter, I have come to realize just how difficult it can be for a blind mother of two toddlers to get around. Cumbersome car seats, a double wide stroller, and a back breaking diaper bag are just some of the baby essentials necessary for even the shortest spring outing. Although I know this awkward travel period is merely a bump in the road on my journey through blind parenting, I don't want to miss a single opportunity to spend time with my daughters.
My eldest is three years old and has recently been requesting some extra cuddles, reading time, and overall mommy attention. I told my husband I wanted to take her out for a mommy-daughter lunch…alone.
"Alone?" he asked. I could hear the concern in his voice. My husband has gotten a little too comfortable in escorting my daughters and I anyplace we need to go. While he trusts me explicitly with their health and well-being, I think the idea of me taking out our non-potty trained three-year-old by myself was a bit of a shock for him.
I knew my mobility training had made me perfectly capable of walking the 14 blocks to a close neighborhood shopping area. However, the thought of having an active three-year-old holding my hand while doing it was a bit scary – even for me.
My husband planned to watch our younger daughter and we agreed that if I felt too tired or became overwhelmed at any time during our trip, all I had to do was call his cellphone and he would come and pick us up.
My daughter jumped with excitement when I told her that she and I were going to have an afternoon all to ourselves. I reminded her that she needed to hold my hand at all times, and she had to be quiet at crosswalks so I could safely guide us across each street. She happily agreed to be on her best behavior, and we set out for our mother-daughter lunch date.
I felt myself being extra cautious as we trekked to our destination. I slimmed down my usual diaper bag contents, carrying only my necessities via a backpack. My daughter also carried her own tiny book bag that connected to an attached leash I hooked around my wrist. I was relieved when we finally arrived at the restaurant. My vigilance had made me very tired and my daughter was not used to walking so far without a stroller.
I chose a seafood place to eat because my little girl loves anything relating to the ocean. We arrived during an off-hour, just after the lunchtime rush, which was perfect because we had the entire place to ourselves. I folded up my cane and we climbed into our own private booth as the waitress brought over a coloring sheet and the menus. Over the next two hours, I came to realize just how intuitive my three year is when it comes to my visual impairment.
She Understands Technology
An overly talkative kid, my daughter seems to make friends wherever she goes. When the waitress handed me the menu, she squeaked, "Get out your magnifier mommy, so we can see what we're going to eat." Even at three years old, she understands that mommy needs certain technology, in this case my hand held magnifier, to read small print when we are out together. I've always allowed her to hold and experience the tools I use to help me manage my visual impairment. When she's curious, she knows it's okay to ask me questions and from our lunch date I could tell she was unfazed by my need for the technology.
She Enjoys Being the Helper
My little girl was only too happy to hand me the rolled napkin containing my silverware. She was also able to tell me where the ketchup was on the table and how many mozzarella sticks were left on our shared plate; so we could split them equally. In many respects, she has become my "eyes," and she is old enough to verbalize the location of items or count things in my presence. I always worry she will resent me for relying on her, even in innocent moments like these, but her sweet disposition and eagerness to please shows me how much she enjoys helping her mommy.
She Knows It's Okay to Ask Questions
If you've ever spent any time around a three-year-old, then you know they ask a lot of questions. "Mommy, how come we've never gone to lunch before?" "Do other mommies take their babies out to lunch?"
I truly try to listen to every question she asks. As her mommy, I want my daughter to feel heard. When she inquires why I don't do some of the things other mommies do, I honestly explain that there are times my blindness makes certain activities difficult to achieve. While we may not get to venture out alone too often, I use her questioning as the opportunity to point out some of the imaginative things we have done together at home, like having picnics in our living room or playing camping indoors. I want her to understand that all mommies are different and have various ways of spending time with their children.
She's Not Embarrassed by My Visual Impairment
About half way through our meal, an elderly couple came in to eat. My little girl happily greeted them as we did one last lap around the restaurant to gaze upon the various wooden fish mounted on their walls. Of course, my social butterfly had to stop and say hello to these elderly patrons, discussing the decor, and what we had just eaten. She said told them we were having "mommy-daughter time" and then, as if it was nothing, she proudly announced, "My mommy is blind, but she crossed the street all by herself."
Although it was hard for me to see, I'm fairly certain the old couple's mouths were opened just as wide as the wooden codfish mounted above their table. It was in that moment, hearing my daughter so effortlessly proclaim her mommy "was blind," that I realized I must be doing something right in raising this impassioned little girl.
Although I may not be the perfect mother and admittedly have many difficulties traveling independently with both my children, my daughter is proud of me. What more could any parent ask for?
While she's too young to comprehend the meaning of her words, having lunch with my baby that day made me realize that sometimes as a disabled parent you have to give yourself a break. The fact that my three-year-old understands my technology, can provide me independent visual cues, asks me questions about our relationship, and can comfortably talk about my disability must be a small indication that I'm doing something right.
Being a blind mom is a tough road that very few people understand. I only hope both my daughters will grow into the kind of women who are caring, empathetic and passionate towards all people, not just those who have a disability. I look forward to many more lunch dates with my daughter. Her company truly opened my eyes to the way she sees her momma, and I could not feel more blessed to call her my own.
More on Being a Blind Mother
Why Being a Blind Mother Is Awesome
Children's Tributes to Their Mothers