Plan Your Family Summer Vacation around the International Family Conference at Newton, MA July 19-21, 2013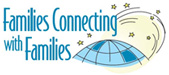 This year's International Family Conference promises to be another great opportunity for families and their children who are blind or visually impaired, including those with additional disabilities, to network with families throughout the United States. You may meet a family who has a child with the same cause of visual impairment at our "Eye Condition Networking Parent Groups," which is one of many popular sessions.
We have also invited representatives from many of the national organizations for specific eye conditions such as Albinism, Leber Congenital Amaurosis, Glaucoma, Anophthalmia, Microphthalmia, Hermansky Pudlak Syndrome, and Deaf-Blindness to participate in the program.
This is an opportunity for you to learn more about raising a child with visual impairments. Learn about our three major keynote presenters and the workshop session topics and speakers, all of whom are experienced parents and professionals in the vision and health fields. They will share their knowledge with you, whether your child is a newly diagnosed infant or toddler or a teenager preparing for his or her future.
The Children's Program also offers a variety of interactive opportunities for all ages including siblings. A few of the activities being organized for your kids are:
Beep Baseball Game
Music Therapy
Art
Yoga
Self Defense
Networking groups for siblings
Networking groups for kids who are blind or visually impaired
Critiquing Audio Described Movies
Interactive reading with acting, music and expression
On Friday during the day we are offering special pre-sessions to include a seminar for NAPVI Affiliates and Parent Leaders; focus groups for Bridge Multimedia Audio Described Television programming and for www.FamilyConnect.org; a three-hour session with Christine Roman, who will give an overview and strategies for working with children who have CVI. The Carroll Center for the Blind has invited parents and children to come and visit their agency's programs with a light reception at their campus not far from the Boston Marriott Newton Hotel.
These are just some of the highlights for the conference program and we hope it entices you and your family to plan your summer vacation and join us in New England!
Susan LaVenture
NAPVI Executive Director