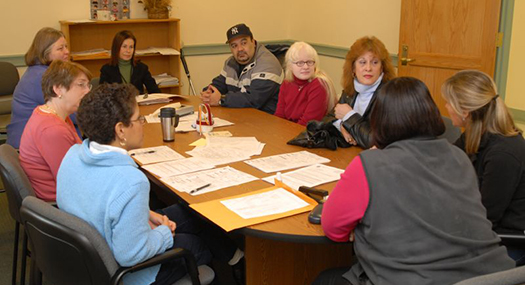 We worry. We wonder if our children are receiving adequate vision-related services, as well as additional special-education or therapeutic services. Many parents haven't traversed this road before; we're uncertain. We worry. Worried one, you are not alone on this road. Many walk beside you and even more have walked before. Let's pool together resources and advice, and heap on the encouragement. We need each other.
So first, if you have a specific question or concern regarding the quality or appropriateness of your child's services, reach out. Seek counsel by posting on the FamilyConnect message boards, commenting on this blog, or by sending a message to our familyconnect@afb.net or FamilyConnect facebook page. We will respond. With your permission, we will also request counsel on your behalf from other parents and professionals of children who are blind or visually impaired on our Facebook page. (Thank you to the many parents and professionals who have lovingly provided direction, encouragement, and feedback.)
Next, know what services your child is entitled to as a young person who is blind or visually impaired and learn about the processes of educating a child who is blind or visually impaired. If you have concerns or notice a discrepancy between what your child should be receiving and what is being received, problem solve with your child's school.
That's right; prepare to be an advocate for your child. If you're like me and blogger Emily Coleman, you're naturally timid. That's okay; be you, but be you boldly. Your child needs you, and I know you'll do what you need to do for your child. Isn't that an interesting component of parenting? We do what we couldn't have done before…because, love. So prepare your talking points and bring along a co-advocate for your support. Also, gain wisdom from Emily by reading, Advocating for My Child Who is Blind.
Lastly, the American Council of the Blind has an advocate program. If you call them at 1-800-424-8666, they will pair you with an individual who can advise you on your child's services. Isn't that incredible?
This is a supportive community. Let's brainstorm together and take off that heavy weight of worry.