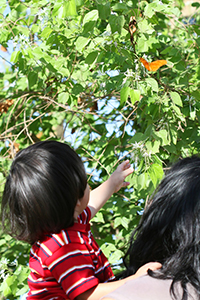 I will never forget his question. My transition students and I were on a nature trail walk and it was a particularly rocky section. One teen who was totally blind opted for sighted guide, so I offered him my arm. We all strolled on and chatted; all except this one, typically talkative, teen. "What's on your mind?" I asked.
"Ms. Shannon, how many snakes do you see?" he asked with a quivering voice.
"What?! None! Why do you ask?"
"I know snakes live in the woods. I thought you must see them all over the place."
I assured him that snakes prefer to flee from the noise and if I saw one, which I didn't expect to, I would let him know.
Fast forward to this morning. After reading the library book, Awesome Autumn: All Kinds of Fall Facts and Fun, by Bruce Goldstone (which is a perfect pre-nature-walk read), my four year old and I took a nature walk in hopes of noticing, appreciating, and collecting small tokens of fall. I told her to listen to the crunching leaves beneath our feet. I had her smell the rosemary and chives thriving in the backyard. We picked a citrus fruit that we will hopefully remember to eat over dinner. We searched for pine cones with no luck.
Forever affected by my prior student's good and startling question, as we walked and explored I told my daughter what I thought we'd find and what I didn't think we'd see (snakes included).
Lo and behold, not a minute later I noticed a snake eight inches from my right foot. I quickly realized its somewhat-deflated appearance and relaxed, knowing it was dead. We lifted it up with a stick, inspecting its weight, beady red eyes, and texture. A surprising learning experience, indeed.
And so I give you another activity inspired by the many vacation days of the holiday season: Take a nature walk with your child and help him discover and appreciate the textures, scents, and sights of fall. While you're at it, collect interesting items and tote them back home.
You can incorporate Orientation and Mobility skills by encouraging your child to his cane and compass; you can incorporate assistive technology skills by searching for interesting leaves and creatures with the use of a monocular and a handheld magnifier. However, my hope is that you focus on helping your child understand the concepts of the fall season and the woods (or another nearby habitat). Equally important is helping your child discover the wonder of outdoor walks and exploration (often a peaceful leisure experience).
Enjoy your family walk and prepare to explore the unexpected!