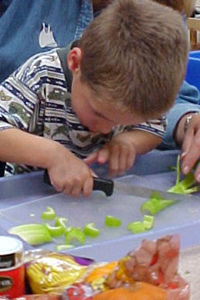 Last year Emily Coleman blogged about living skills instruction over the holidays.
I know Thanksgiving week can be an intense week of traveling or hosting relatives, and you may feel held captive by the kitchen, but.
But what if this week can also be a time for your child who is blind or visually impaired to improve her cooking skills and shine? What if you allow your child (and her siblings) to help with one dish? Maybe this dish is roasted, steamed, poached, sautéed, grilled, baked, braised, or hey, stirred or microwaved. This dish can even be made ahead; in fact, this is highly recommended.
You see, if you ask for your child's help with cooking one dish, you are helping your child. You are giving your child the gift of feeling like a contributing member of your family team; you are giving your child the gift of pursuing mealtime independence and safe cooking techniques for blind or visually impaired; and you are giving your child the gift of your time and attention.
So consider giving your child a few options of dishes, and have her choose one she'd like to help you cook for your Thanksgiving meal.
You have a baby? Your babe can help add sliced fruit into a fruit salad, or she can enjoy the aroma of fruit as you narrate the experience. You have a toddler? Your toddler can help mash cooked sweet or white potatoes. You have a school-age sweetheart? Your child can help you whip up a green bean casserole or corn casserole the night before Thanksgiving. You have a teenager? Your teen can choose her favorite side dish or decide to help prepare the turkey.
If developmentally appropriate, ask your child to help search for the recipe and create a grocery list. If time allows, take her to the store and involve her in the shopping experience. When home, have her help label the packaged and canned food and then properly store the items until it's cooking show-time. For the smoothest experience at "show- time", work together to make sure the environment is prepped and all the ingredients and tools are accessible.
Whether your child is just beginning to learn self-feeding skills and table manners, or if she's a kitchen pro like Christine Ha, include her in a portion of your Thanksgiving meal preparation. Let her know what's involved in feeding a large crowd, discuss how you decided on your recipe, and invite her to help you with one Thanksgiving dish.
Maybe your co-cooking one dish will become you and your child's favorite Thanksgiving tradition.