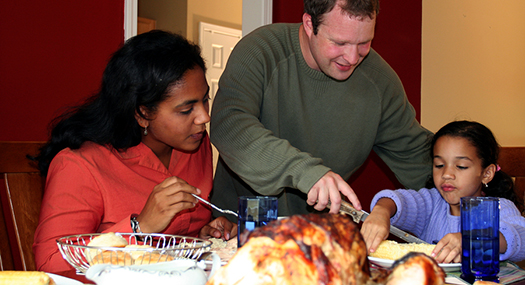 I guess you could say I'm as inspired by the holidays as I am by Emily Coleman's blog series: "A Holiday Approach to the Expanded Core Curriculum". Take, for instance, Emily's advice to have your child ask family members about their careers in the blog post, "Career Education for the Holidays".
This is where I want to focus. You probably have a gathering of family, or friends who feel like family, whom you will join for a Thanksgiving meal; take full advantage! Give them a heads up that you want to expose your child (or children) to types of work, the route taken to attain the jobs, and what the work entails. People generally enjoy sharing about their experiences and my hunch is they'll be happy to share.
To get started, pique your child's interest ahead of time. Tell your son you know his uncle does "such and such" for work, but you're not real certain if he gets to do "such and such". Read a book with your young child that highlights a particular job of a family member, and discuss questions you can ask the relative once she arrives for the holiday. Perhaps you can identify an interest of your child and relate it to Grandpa's work.
Next, consider age- and developmentally appropriate questions you can ask relatives or friends regarding their former and current careers. Encourage your child to reflect on what he will want to ask.
Topics and questions may include:
"What is your job and what are your job responsibilities?"
"What do you wear to work?"
"What do you enjoy at work and what is the most challenging?"
"What was the process of preparing for your job?"
"How did you find your job?"
"Tell us about a role model or mentor who guided or encouraged you at work."
"What was transitioning from high school to adult life like for you?"
"What do you wish you had learned at home before moving out?"
"What was your first job? What did you learn then that helped you prepare for what you do now?"
"What do you think it takes to be successful at work?"
Remind your child to thank the individuals for helping him learn more about work.
For more ideas on imparting career-education to your child, please read AFB FamilyConnect's Helping Visually Impaired Babies and Toddlers Explore the Community, Exposing Blind Preschoolers to Jobs, Volunteer Work as a Child's Preparation for Employment, and A Teenager's Transition to Independence.