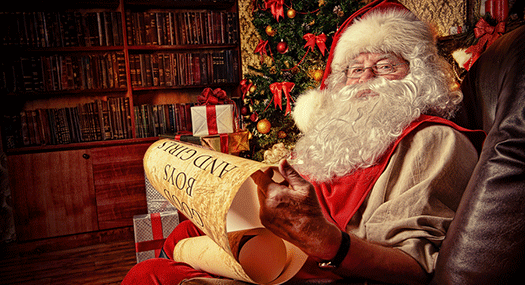 Thank you, holiday season, for generating major motivation for our beautiful little people to read and write.
When my children come home from school this afternoon I will ask them to write a Christmas wish list. I'll grin as I watch their uncharacteristic enthusiasm for literacy. My oldest, the perfectionist, will ask for help with spelling. My youngest, the ultra-spirited one, will be content with guessing. I'll be happy they're practicing.
Let's think of further ideas for incorporating literacy training this frosty month:
This is too cool. If you sign up online by December 18th, BrailleWorks will mail your child a brailled letter from Santa (overlayed with large print). "Santa" writes that your child has been good this year and presents are on their way from the North Pole. Now there's a document many children will want to read!
As you once again begin your search for presents, consider enlisting your child's help when perusing the web for the right gifts appropriate for a child with a visual impairment. You can look through FamilyConnect's Holiday Guide and read select gift descriptions to him. He may enjoy this "read aloud" session and you can gauge his interest in a few items. If you have a teen, ask her to search the web for a few gift suggestions.
With two weeks off from school, your routine is bound to change. Help your child know what's coming next by creating and using a December schedule or calendar system. Encourage him to record new tasks and read the schedule each day.
Read books, books, and more books. Venture to the library for holiday books you can read to your child; download audio books for your child's listening; consider adding to your braille library collection as a holiday gift; and look into the ReadBooks! Program: FREE braille book bags for kids!.
Enlist the help of your child with gift giving. Help her think of gifts family or friends may enjoy within a particular budget; encourage her to write or type a gift list; teach her to read prices of items in the store with a magnifier; and task her with writing or brailling gift tags.
When in doubt, read. And make it a fun process. As Albert Einstein famously stated, ""If you want your children to be intelligent, read them fairy tales. If you want them to be more intelligent, read them more fairy tales."