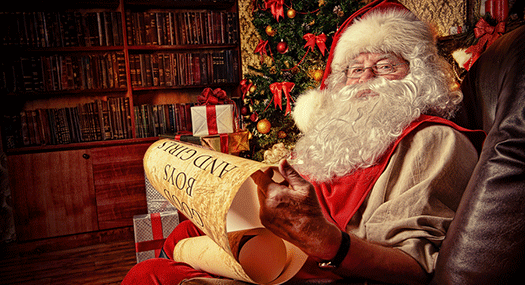 Last year we discussed
including your child who is blind or visually impaired in Hanukkah traditions
; I learned much as I asked my friend, a rabbi, to explain the holiday traditions to me. Together, the rabbi and I discussed how to make each tradition meaningful and accessible to a child who is blind or low vision. Today we turn our attention to Christmas. We will take a look at the holiday and again discuss how we can make the traditions meaningful and accessible. While Hanukkah has a straightforward origin, Christmas is truly a compilation of assorted traditions. First and foremost, many would say, is the celebration of the birth of Jesus Christ, God's son, born of a young virgin, Mary. The account is recorded in the Gospels of Matthew and Luke. For Christians, Jesus' birth is important because He is the unblemished one who came to reveal God's character and to atone (cover and forgive) sins by His sacrifice of death on the cross. For young children in the Western world, Christmas is alternatively or additionally the day "Santa Claus" delivers presents for "good boys and girls". "Santa Claus" is the nickname of Saint Nicholas, a bishop who was known for helping the poor. Hence, gifts are bestowed upon this day. Still, many others consider Christmas simply an exciting opportunity to gather with family and friends, exchange gifts, feast, and enjoy winter-themed décor. It's safe to say the focus of Christmas varies among cultures and families, however, many of the celebrations and traditions overlap. I will list a variety of traditions below, and you can utilize what applies to your family.
How to Include Your Child in Christmas Traditions
1. When participating in the lighting of the four advent candles leading up to Christmas, one can use hand under hand instruction to allow a child who is blind to participate in the ceremony. 2. When choosing an advent calendar, look for one with three-dimensional compartments instead of simple flaps. Use a braille labeler to label the doors 1-25 and insert an enjoyable toy or treat in each section. Some families enclose a small piece of chocolate or candy, and others prefer placing one piece of a toy set in each compartment. You may consider including "glowing Legos" known as "Light Stax", which are enjoyable for all children, including those with visual impairments. [Using an advent calendar is an enjoyable method for teaching
calendar use
.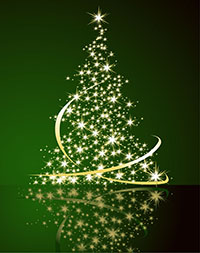 3. When choosing a Christmas tree, I recommend visiting a tree farm. Your child can explore the trees when they are still in-ground, helping to build your child's
knowledge base
. If you already own an artificial tree, your child will still benefit from exploring a tree farm. 4. When decorating your home with mistletoe and other decorations (including a tree and its adornments), use as many live or natural artifacts as possible. The objects will be more interesting for a visually impaired child to touch and smell. Additionally, have your child assist in making and hanging decorations and ornaments. [Consider making
peppermint star ornaments
with your child.] 5. Invite your child to place holiday lights on low-lying shrubs, giving him a hands-on experience with the size of lights and the use of electricity. 6. Visit "Santa" for pictures and a discussion on gifts. Talk about what he traditionally wears and if Dad or Grandpa has a beard, relate Santa's large beard to a familiar one. [Have your child write to "Santa"
here
and "Santa" will respond to your child with a braille letter.] 7. Visit a live nativity scene where your child can listen to the account of the birth of Christ. Your child may even enjoy being an actor in the scene.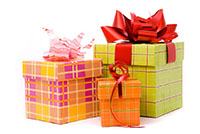 8. Encourage your child to think about gifts for others. Whether considering gifts for family, friends or
teachers
, your child can develop shopping skills, money management skills, and learn empathy when thinking about what others would enjoy. 9. When considering gifts for your child, read AFB FamilyConnect's
Toy and Gift Ideas for Children with Visual Impairments
. 10. If you are celebrating Christmas at your home, include your child in
meal preparation
and home cleaning; if you are celebrating elsewhere, include your child in travel preparations. 11. Add
braille Christmas books
to your home library. If you have found additional ways to include your child who is blind or low vision in the celebration and traditions of Christmas, we would love to hear your input and ideas! Merry Christmas to you and yours!