By Amy Lynn Smith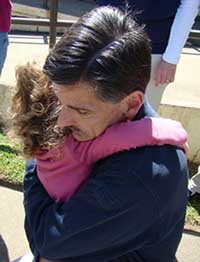 Ever since learning that his daughter, Rachel, would be blind, David Hyche has actively sought ways to make sure she can fully participate in all the joys of childhood and life.
When Rachel was still a toddler, David was helping his church plan an Easter egg hunt and wanted to find a way for her to join in like other children.
"It's no fun having an adult take your hand and put it on an Easter egg," he says. "Kids need to find it themselves."
A bit of searching turned up a man in Los Angeles who was making beeping Easter eggs. David ran with the inspiration and started making them himself. In the 11 years since, the project has expanded from his home state of Alabama into a national endeavor. It's supported in part by a professional organization David belongs to, the International Association of Bomb Technicians and Investigators (IABTI).
IABTI adopted the creation of beeping Easter eggs as a charitable effort and donates about $10,000 a year toward the purchase of the components, David explains. Then bomb technicians and police officers around the country build the eggs for area schools and organizations.
"Blind children being able to do things independently is important for their self-esteem and enjoyment," says David, who is an agent with the Bureau of Alcohol, Tobacco, Firearms and Explosives (ATF) and teaches a class for bomb technicians.
Rachel, who is now 12 years old, still enjoys participating in beeping Easter egg hunts, like those hosted by the Alabama Association for Parents of Children with Visual Impairments (AAPVI), an organization in which David is involved.
"There are seven beeping Easter egg hunts in Alabama, and we add several cities across the country every year," David says. "It's really cool that the program continues to grow."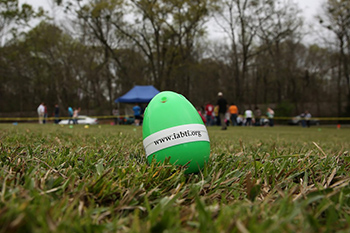 Read David Hyche's story of raising his daughter, Rachel, who is visually impaired: Father Uses What He's Learned from Raising a Daughter Who Is Blind to Help Other Parents.
Beeping Easter Egg Hunts for Children Who Are Blind or Visually Impaired
Have You Ever Been to an Easter Egg Hunt for Children Who Are Blind?
Instructions for Beeping Easter Egg Hunt for Visually Impaired Children
Beeping Egg Hunts: Ten Years Later
Including Your Child Who Is Blind or Visually Impaired in Easter Traditions