We are pleased to feature a FamilyConnect community member as a guest blogger today, writing about her experiences choosing to home-school a child who is blind. Susan has been a registered/licensed medical technologist for 35 years. She writes, "I finished my BS degree 15 years later in health education and worked as a social worker in adoption and therapeutic foster care. I earned my MS in Special Education 10 years ago. My husband and I have been foster/adoptive parents for 32 years, adopting 11 of our 14 children and fostering 30+ children. We have been a home school family for approximately 20 years. In my spare time, I'm a notary public and love to do weddings!"
---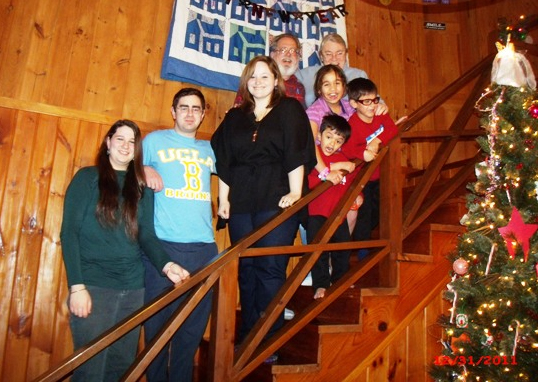 By Susan Harper
We are a home school family. We started home schooling 22 years ago. Since we have parented lots of adopted children with a variety of issues and some with very real behavioral problems, we finally after much discussion and thought, decided to home school.
We had debated about home schooling for several years, thinking how would we manage? What would we use for books? Where would we find materials? Were we smart enough to do this? You need to know just a little about us at this point to gain a little insight into our thought process. My husband was a seminary student, working on his Master's Degree in Theology, a former music teacher, working part time as a social worker in a nursing home. I worked full time for a mental health agency supervising and supporting therapeutic foster care placements.
How would we manage? We were both working and my husband was going to school. We also had 5 children, ages pre-school, 5th grade, 6th grade and high school. The decision was made over the next summer to home school. We found a curriculum that we liked, after researching many different kinds. There are lots of different curricula out there. We found one that we thought we could manage and that would be good for this young man.
We rearranged our work schedules so we only needed daycare 3 days a week. We found a great licensed home daycare provider. She agreed to monitor the children's day and make sure their assignments got done. We corrected schoolwork on the weekends and made assignments for the next week. We started out to home school one child, but both boys wanted to be schooled together. The other twin was the class president. This took a lot of planning.
Home Schooling a Blind Child
Now, how does any of this relate to home schooling a blind child? Those children grew up and went to college and the house was quieter, with only 2 children at home. At this point my husband is a full-time pastor and I am teaching school. We decided to apply to provide foster care for special needs children. We had several placements over the ensuing years. One of those placements was two beautiful baby boys who came to us from the NICU (Neonatal Intensive Care Unit). We specialized in providing foster care to premature infants. The plan was for us to foster while an adoptive family was found.
One of the twins had hydrocephalus and was eventually shunted with a permanent shunt. The other little boy was blind, due to detached retinas from retinopathy of prematurity. After 5 surgeries involving numerous trips to New York, the surgeries did not work and he ended up with no vision. An adoptive family was found and very interested in adopting the boys. A meeting was set up. Just before the day of meeting the perspective new parents, we got a phone call from the worker. This family was expecting and 3 babies would be too much. By now the boys had been with us for 6 months and were making good progress. They were so cute. However, we were "just going to foster." We felt we were too old to adopt at 55 and 58 years old. It just wasn't in the picture. Now we were still home schooling a grade school child, a middle school child, and almost finished with a high school child, looking at college.
Long story short, there were two families who would adopt the boys into different homes out of state. We'd had these two boys for a year and a half at this point. We couldn't let them place these two little boys in separate homes. They had well-established medical care and loved each other and us. So, they stayed and were our last adoption.
When these two little guys reached pre-school age, they had to be transitioned into the public school system to continue to receive services. At this point, Services for the Blind would no longer work with our family, but would work with the school. We went through all the soul searching, agonizing feelings of inadequacies that we did when we first home schooled.
Well, by now we both had Master's Degrees. Mine was in Special Education. We did not have any experience working with a visually impaired child, let alone a blind child. How would we do this? Money was not the issue because I was working at home providing foster care and home schooling our other children. But still, how would we be able to do this? Where would we find materials and help? Services for the Blind in Connecticut told us they couldn't help us if we home schooled, they had to have an IEP once a child reached public school age. If you home schooled in Connecticut, you have no access to any public school programs. It is either public or home. What were we going to do?
We weren't happy with the services at the school. I attended transition meetings for a year before the boys started in pre-school, then almost weekly when they started. Our preferences were ignored. The staff was not trained prior to the children starting school. The TVI came once a week to train school staff and work with our son for an hour. We watched school staff and they didn't have a clue. They didn't want to hear from us how we did things to help our son succeed and learn. They wouldn't let our son have his cane in the classroom. It hung on a hook outside the door in the hallway. They would put all of his special services at the same time as the TVI came, with 4 to 5 adults working with our son. We told them that he couldn't tolerate overload.
The last straw came when I picked my son up at school and found him sitting in the wet sand box, with an aid by his side, telling him to put the sand in the bucket. The sandbox was so full of children, he couldn't move. His cane was outside the fenced-in play area, thrown in the grass. I had to hunt for it. I picked the boys up, brushed my son off (he was covered in wet sand), and we drove home. That was the day I figured I probably could do at least as well as the public school. I had learned Grade I Braille by then and had adapted toys and books.
But where was I going to find curriculum material? You know, the internet is a wonderful tool. I got on and starting typing in "free braille stuff," etc. That was how we got started. Nothing worthwhile doing is ever easy, but we made it work!
Now we are into our 4th year home schooling a blind child, if you consider the pre-school work that we did. Our son is 7 and has a pretty good, well-rounded program with OT, PT, Speech, O&M, TVI, Sect. 28 (Center-based socialization program one afternoon a week), and 5 mornings a week with me teaching basic math, reading, and braille skills with the help of our TVI. It took us two and a half years to put this all together. We have three still in home school, and one in college. It takes a lot of work, coordination, and cooperation. It doesn't happen overnight. I have a motto I'll share. "NO SERVICES ARE BETTER THAN BAD SERVICES!" This is my mantra and I'm sticking to it! Blessings!