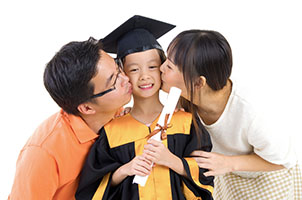 For as long as I've had the pleasure of blogging for APH CareerConnect, followed by AFB FamilyConnect, I've never said it. I've reserved its use. Until now.
If you only remember one thing from any blog I've ever written, remember this:
Your son or daughter needs (read: thrives on) your high expectations.
We've heard it before, but has it changed the way we parent our children? And how does it impact the way we regard our graduates?
This year I have a graduate from Pre-K and a graduate from Kinder; maybe you have a graduate from elementary, middle, or high school. No matter, let's consider together how we can empower our littles and bigs with our high expectations.
Speak life. Maybe you do have high expectations of your youngster, but it doesn't make its way to words very often. Encourage your child by praising him for who he is and for his strengths and efforts. For example, "I am so proud of how hard you've worked this year, my little graduate. I can't wait to watch you in first grade. You sure are a hard worker."
Identify what your child has done well and learned this year; transition the talk to "next year". Discuss the growth and maturation she's had this year, the milestones reached, the character traits gained, and the strides made in the core curriculum and expanded core curriculum. Tell her you can't wait to continue watching her grow and blossom over the next season. For example, "Remember when you learned to use the video magnifier this year? I know next year you'll learn even more assistive technology. Oh, maybe technology for cooking; I'd love your company and help in the kitchen."
Expect your child to work to the best of his ability. This should be the case for schoolwork, participating in chores, choosing a high school track, tackling a summer job, and through the encouragement of career goals. Children and teens need parents to hold them to high standards in order to develop a strong work ethic and to prepare for life after high school.
Introduce your child to successful adults with visual impairments. By both reading success stories and connecting to adults in your community, be sure your child has role models who are blind or visually impaired. Your child needs to see low vision or blindness doesn't have to hold one back now or in the next season.
Congratulations to your graduates! May we encourage them and expect them to rise.