Hi. I'm Scott Truax, and I have the privilege this week to be serving as a chaperone for kids attending SCIVIS (Space Camp for Interested Visually Impaired Students), a week-long camp that takes place at the US Space and Rocket Center in Huntsville, Alabama. The camp has been in operation for 23 years.
Everything here is marked in braille, and all materials and equipment used during missions are available in braille and large print.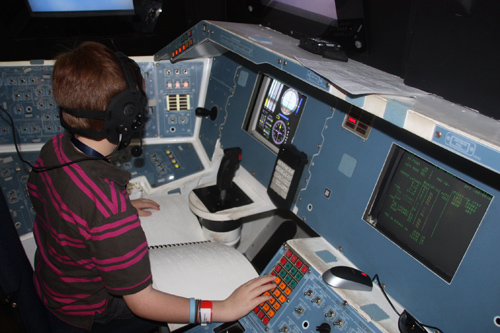 Saturday was devoted to arriving at space camp, and moving into Habitat One. (NASA terminology: the bathrooms are called "waste management"!) Habitat One is built like a futuristic space station, with bunk beds, six people to a room. The kids have to move in, get oriented, and adjust to a very fast-paced life and agenda.
From 8:30 in the morning to 8:30 at night the days are fully scheduled. Kids range in age from fourth-graders to high school seniors. Little ones, big ones, constantly moving and doing all day. Please send good food, cafeteria food: yuck!
We got to go inside the mock space shuttle, based on the Endeavor, to prepare for our mission. Kids take on every role, from commander to mission specialist.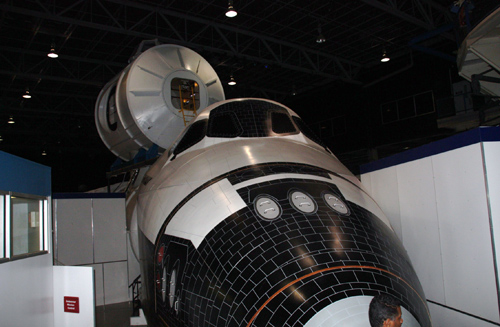 Exterior of mock version of the space shuttle Endeavor