The Helen L. Diller Vacation Home for Blind Children has been spicing up summertime with beach days, sports, and day trip adventures along the Jersey Shore since 1972. Camp Director, Anna Ackley, shares what they have on the horizon for 2017 and the essence of being a part of Diller.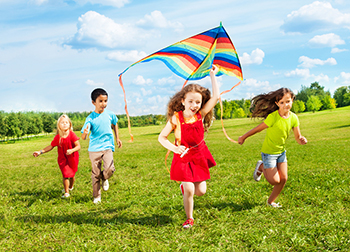 Summer 2017 at Diller
The Helen L. Diller Vacation Home for Blind Children is getting ready to open its doors to campers for their annual summer camp sessions, and this year's agenda is jam packed with fun. The camp's mission is to provide a home-away-from-home where kids can engage in community events, run around in the sun, and establish lasting friendships with fellow campers, all expenses paid through funding from the Avalon Lions Club; Tim Kerr Charities, Inc.; the William G. and Helen C. Hoffman Foundation; and other generous private donations. The goal, as emphasized by interim director Anna Ackley, is to "give these kids a vacation, and just let them be kids."
This year from June 17th until August 12th, the Diller Vacation Home, located in the heart of Avalon, New Jersey, will host eight one-week camp sessions for children who are blind or visually impaired. Each session invites 20 children—10 boys and 10 girls—to room and board at the pleasant Diller manor. Many of these students have just completed a long year of school, with many full days of hard concentration learning braille, practicing cane skills in various environments, and engaging in various school-related extra curricular activities.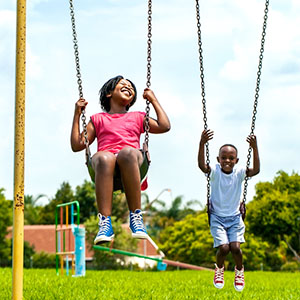 Weekly General Agenda
Campers seven to 15 years old arrive for seven full days of delicious home-cooked meals; day trips to the beach, Cape May Zoo, Wildwood Waterslides, and Ocean City boardwalk; dance parties; talent shows; sports on the beach; boat rides at the Avalon Yacht Club; and many other summertime activities. There is a staff member or counselor for every five children, which allows campers to receive undivided attention and one-on-one guidance when needed. Many of the counselors and staff are Diller camp veterans, capable of working with children with visual impairments, and are dedicated to making sure inclusion and exposure to new activities, environments, and constant social interaction are at the heart of every camper's week.
Exposure to Blind Sports
The camp emphasizes the importance of physical exercise and team participation. Cheers from the teams playing beep baseball, goalball, adapted basketball, tennis, and many other sports fill the yards and beach turfs during the summer. "Even though some of the kids don't need the adaptation, we encourage it to give them the experience and let them know that this option is available to them."
The counselors and staff members make sure to introduce sports that can create an equal playing field for all campers with the goal of teaching children about physical exercise and how to win, lose, and work as a team.
Special Features
Each year, the camp hosts two "sibling weeks." Campers are encouraged to bring a sibling who will stay with them at Diller manor and have access to the same fun daily activities and lasting friendships. In many ways, this week of bonding is a rare gift to siblings of campers with visual impairments, and the campers themselves.
"My favorite part to watch is how siblings get to connect with other siblings of blind or visually impaired students who are going through the same thing," said Anna Ackley.
"Alumni Week" is another special event where campers 16 to 20 years old are invited to come and meet new or old friends and engage in the week's planned events.
For students over 18 years old who are blind or visually impaired, there are two key ways to get involved in the camp's activities: the junior counselor program and counselor in training (CITs) program, which allow volunteers to help prepare and organize activities, lunches, and games. For 2017, those roles filled rapidly, but for teens and young adults looking for a volunteer opportunity for Summer 2018, they should get their application in early!
New This Year
In place of long time director, Emily O'Donnell, Anna Ackley will be filling the director role this year with her support staff of 12 camp counselors—six for the boys and six for the girls. Anna has served as the Assistant Director of the Diller Summer Vacation Home since 2013 and considers herself very lucky to witness such progress in this program each year. As a Teacher for the Visually Impaired (TVI) during the year, Ackley also appreciates the freedom that the camp provides to all involved. As she prepares for the camp to start, Ackley is planning to remain true to the camp's mission—to provide fun, awareness, and understanding in-house and outside in each community that they encounter.
"I want people in every community to see our kids and think, wow, these kids are having a great time, living a great life; they're just kids being kids. I'm their advocate, but they don't need special treatment or sympathy. They're blind or visually impaired, but they're living wonderful lives. We are showing the entire community—kids and adults—that they can be comfortable and interact with our campers, ask questions, join the fun, whatever. This is how we can change the stigma."
The Helen L. Diller Vacation Home for Blind Children is still accepting applications for prospective campers, but spots are filling quickly! For more information and the downloadable application, visit their website.
Summer Camp Resources for Children Who Are Visually Impaired
Summer Camps and Programs for Children Who Are Blind or Visually Impaired
5 Reasons Why Recreation Is Important for Children Who Are Blind or Visually Impaired
Physical Education and Sports for Students with Visual Impairments
Summer Camp: An Experiment in Independence for Children and Teens with Visual Impairments