We're delighted to host a guest post today from Buddy Levy, presenting his interview with Erik Weihenmayer and Amy Van Dyken-Rouen.
---
What do a blind outdoor adventurer and an asthmatic six-time Olympic gold medalist swimmer have in common? Turns out, the same thing that all of us have in common in some form or other: adversity.
Everyone faces adversity—what matters is how they face it, according to Erik Weihenmayer and Amy Van Dyken-Rouen, who got together recently for a web-hangout interview ahead of this summer's No Barriers Summit, to be held in Park City, Utah July 9-12. Van Dyken-Rouen, a celebrated U.S. Olympic swimmer who was paralyzed in 2014 in an ATV accident, is the event's keynote speaker at the opening ceremonies, and Weihenmayer, a mountaineer and outdoor adventurer blind since the age of 13, will speak at the closing ceremonies. Their individual stories are remarkably different, yet each of them believes that personal adversity can be harnessed to effect positive change in your life. As Weihenmayer puts it, "With the right tool-kit, the right community of support, the right 'rope team,' you can become a kind of alchemist, and turn the lead in your life into gold."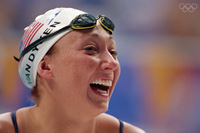 Van Dyken-Rouen agrees, even going so far as to say that her accident, which left her paralyzed from the waist down a year ago, "was an epiphany that has made me a better person. I'm much more empathetic. I don't take things as seriously as I used to, and I laugh a lot more. To be honest, I'm a lot happier than I was before the accident, because I know this life is so precious, and that it can end in just the blink of an eye. I've learned to love more deeply."
Van Dyken-Rouen, driven and determined, has attacked her rehabilitation with the same intensity she brought to the Olympic swimming pool in 1996 and 2000. After 2 1/2 months of rehab she stood on her own for the first time, and she recently took her first steps with the aid of an exoskeleton, a computerized assistive device that gets paralyzed people up and walking.
Weihenmayer has experienced his own epiphanies. In 2001, as he descended from the 29,035-foot summit of Mount Everest, one of his guides congratulated him on his historic climb, then said something that Weihenmayer would never forget: "Don't make Everest the greatest thing you ever do."
Weihenmayer had just become the first blind person to stand on the world's highest peak, and he went on to climb the rest of the fabled Seven Summits—the highest points on each continent. So, what was he supposed to do for an encore?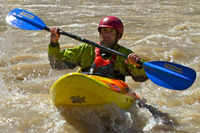 The more Weihenmayer thought about his guide's words, the more he realized that his life's purpose wasn't just about personal accomplishment: He had an opportunity to help others. In 2004, Weihenmayer co-founded No Barriers, a nonprofit organization aimed at helping people with adversities overcome personal barriers, find inner purpose and maximize their contributions to the world.
"We all face obstacles in our lives," says Weihenmayer. "Mine happened to be blindness, but all people struggle with adversity. Yet I think there is something inside all of us, a kind of light. Sometimes—through injury, disease, tragedy, mental illness, loss or trauma—we get shoved into a dark place, and that light almost goes out. But that light inside us is really strong, and combined with a mindset of character, strength, and resilience—it can win out over the barriers we confront."
For Weihenmayer and Van Dyken-Rouen, teamwork, community, and goals are all vital elements in the process of living what they call No Barriers Lives. Van Dyken-Rouen says, "My idea of teamwork before my accident was getting three other girls together on a relay team and going for a gold medal; now it's getting a group of doctors and physical therapists together for my life! I could not do what I'm doing today in my recovery, and I wouldn't have the outlook I have without them, my husband, the whole amazing team—they are doing everything they can to help me succeed in my long term goal to one day walk under my own power."
Weihenmayer says that the No Barriers Summit is profound and deeply meaningful to him, and that no one leaves it unchanged. It's an opportunity to be around a community of people who are trying to live No Barriers lives. They may struggle and fail in the process, but they believe the message. "Whether you are in a wheelchair, or blind, whether you have any kind of challenge—which is honestly most people in the world—what unites us aren't our triumphs but our barriers. Our failures. Our inner strength is formed in the flames of adversity. We are all trying to figure out the tools we need, the skills we need, to discover the mindset we need to push forward, and to answer an important question of ourselves: Is there something inside us that we can tap into? I think there is," Weihenmayer says.
The four-day No Barriers Summit in Park City July 9-12 will bring together about 1,000 global participants and will feature innovative adaptive technologies, inspiring speakers and clinics for outdoor activities such as rock climbing, cycling, kayaking, rafting, sailing and fly-fishing, painting, and photography. All Summit participants are invited to the Canyons Resort Summer Concert Series for a free show, featuring the Grammy Award winning Blind Boys of Alabama, who take the Mountain Town Stage after 6pm the evening of Saturday July 11.
Summit presenters include NBC's Last Comic Standing winner comedian Josh Blue, who has cerebral palsy; innovator Henry Evans, a quadriplegic who is also mute, who pioneers adaptive robotic technology at Robots for Humanity; and Mick Ebeling, founder of Not Impossible Labs, who will demonstrate his latest inventions, including the Eye Writer, which enables paralyzed individuals to communicate and create art by using only the movement of their eyes.
Erik Weihenmayer and Amy Van Dyken-Rouen will be there, sharing their remarkable stories and also participating in many of the clinics, like rock climbing.
Says Van Dyken-Rouen, in closing out their conversation, "In life, the bigger the risk, the bigger the reward if you succeed. So who knows, Erik, maybe I'll be on the rock wall, side by side with you. That would be so cool!"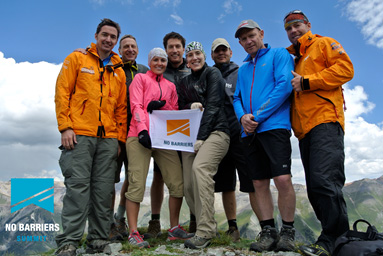 To register for the No Barriers Summit visit nobarrierssummit.org or contact the No Barriers office at 970.484.3633.