Editor's Note: Today's post is from guest blogger Paula Korelitz. Paula, a Teacher of Students with Visual Impairments (TVI), offers her suggestions for hands-on activities for your child who is visually impaired.
Summer's officially here! This extended vacation time provides an opportunity to add to your child's general knowledge base and encourage self-confidence and growth. It's also a great time to start asking your child what he wants to be. Believe it or not, your child's age doesn't matter, even toddlers may have a ready answer to that question.
So, what can we incorporate this summer that's hands-on, super fun, meaningful, and promotes knowledge, self-confidence, growth, or career awareness? Let's take a look.
Hands-On Summer Activities for Visually Impaired Children
Explore professions! Special trips can be arranged for a wide variety of professions; you just need to be brave enough to ask! Consider this a time to cultivate an understanding of the types of jobs available in your community. This not only gets your child thinking about career choices for himself but also gives him valuable information that makes books or lessons about these occupations come alive!
Firemen will be happy to show off their equipment.
Pilots of small planes will often take a blind child not only into their cockpit but also up for a short flight. Finding a small airfield near your home is the easiest way to accomplish this goal.
Careers for people who are blind or visually impaired now seem to be unlimited. There are blind doctors, lawyers, judges, models, opera singers, astronomers, and architects. Start early letting your child know that knowledge and technology are the tools needed for a successful career in almost anything that interests him. Why not visit job sites where people who are blind are employed? Contact a local Division of Blind Services or Vocational Rehabilitation office and ask for if there any adults who are blind who may be willing to provide tours of their workplaces.
Enjoy summertime adventures together! Now that there's likely more free time in your schedule, it's time to explore the great outdoors.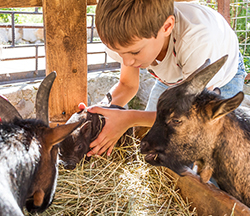 All children should learn to swim. Whether you take your child to a local swimming facility or you teach your child yourself, it should be a must on your summer to-do list.
A great outdoor activity that will enhance your child's listening skills is identifying birds by sound. The Audubon Society has a free app available for Apple and Android products.
Take a trip to the zoo to learn about animals. Because many (well, most!) animals are off-limits for touching, a trip to a Cabela's or Brass Pro Shop allows your child a truly unique experience. Call the local store near you and ask to speak to the manager. Tell them your child is blind and arrange for your child to touch the taxidermic animals on display.
Another truly informative way to have your child have a hands-on opportunity is by contacting Safari Clubs International and finding a local chapter. They will provide a great deal of information about the animals and sometimes make the sounds the animals would make if they were alive.
Beat the heat and head to a museum! Take advantage of the educational and hands-on activities museums provide.
The "Do Not Touch" signs in many art museums are gone. Special tactile tours are available at such notable museums as the Smithsonian, MOMA, the Guggenheim, and the Whitney. Check your local art museum to see if parts of the museum offer audio description and tactile exploration.
There are some wonderful hands-on museums where science can be experienced through a variety of senses. Most major cities will have a Children's Museum and a multitude of things to experience firsthand.
Encourage your child to enjoy a sport! Introducing new sports will give your child more self-confidence and also provide recreational opportunities year-round.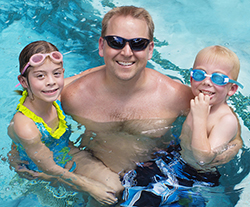 Take a family vacation! Venture near or far to explore the world, play together, and build memories.
Resources for Summer Activities
Summer Camps and Programs for Teens who are Blind or Visually Impaired
Assisting Your Blind or Visually Impaired Teen in Obtaining a Summer Job, Part One
Assisting Your Blind or Visually Impaired Teen in Obtaining a Summer Job, Part Two