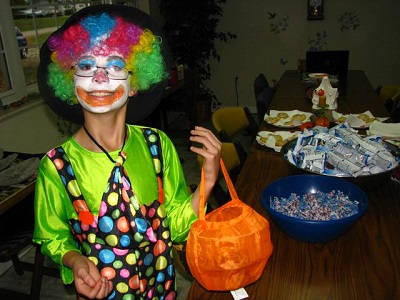 Happy Halloween from FamilyConnect! Are you looking for some fun, sensory activities for your child with a visual impairment this Halloween? With only a few days left, here are some ideas you and your child can do this weekend. We hope you will give these must-do activities a try and share your experience with us!
Trick-or-Treating. Let's be honest, what kid doesn't love trick-or-treating? Dressing up and going around the neighborhood with your friends and family is the best part of Halloween. And talk about a great opportunity for your child to show off their orientation and mobility skills! Filling up a goody bag with sweet treats isn't a terrible motivator either. Hopefully you and your child have been practicing your trick-or-treat route over the last couple of weeks. If not, there is still time for you to turn trick-or-treating into an orientation and mobility lesson.

Pumpkin Spice Playdough. Let's make Halloween sensory for our little ones with visual impairments. Homemade pumpkin spice playdough is easy to make and fun for your child. Whether they enjoy the process of mixing up the dough or playing with it later, this festive activity is sure to excite your child about Halloween. Check out this recipe for the perfect playdough.

Sensory Crafts. Looking for accessible, fun Halloween crafts? Our friends at WonderBaby have put together a list of ideas perfect for children who are blind or visually impaired. From pumpkin lite-brite to decorating your own jack-o-lantern with puffy paint, these multi-sensory ideas are a great way to get hands-on this Halloween. Check out this list on WonderBaby.org.