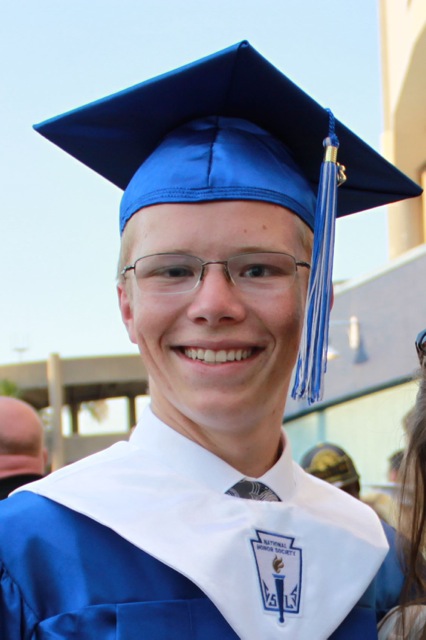 I recently had the honor of recognizing one of my former Kindergarten students, Michael "Jake" Beausir for a scholarship award at his high school graduation awards ceremony. When I announced his name to the audience, the crowd rose to their feet and roared with applauses, whistles and shouts of "whoop whoop"! As Jake accepted his award, I was humbled by the lingering well-deserved congratulations from his high school family, his dad, mom and big sister. Jake's peers were in awe of him as they know his story of perseverance and value the attributes of his intrinsic character which include fortitude, courage and leadership. Simply put, his graduating class members recognized he would receive his diploma with them but it had greater value. Unlike any of them, he had to overcome physical and emotional challenges related to having a severe visual impairment along his educational journey. The notable detail is he seized every opportunity (some quite difficult) to graduate with the distinctions he earned and deserved.
Parents of children or teens who are visually impaired or blind, I hope I have your attention. If you are having trouble envisioning your child as a high school senior headed off to college, read on. Teenagers, if you are unsure about your future, read on. High school graduation is possible. Being admitted to college certainly is too. Helen Keller one said, "Character cannot be developed in ease and quiet. Only through experience of trial and suffering can the soul be strengthened, ambition inspired, and success achieved." Jake's story embodies Helen's philosophy and is one that should encourage parents of children who are visually impaired or blind as well as teens who are visually impaired or blind in the midst of their educational journeys.
Learn more about Jake's journey to graduation from my perspective as a teacher.
If you want to truly understand, learn from and be inspired by Jake's personal story of resiliency and optimism, read his college application essay; Never a Victim by Michael "Jake" Beausir.