Wow, the action keeps coming here at SCI-VIS. We spend plenty of time in lectures on everything from space clothes to how you go to the bathroom in space, which of course is of prime interest to the kids!
Yesterday, campers built a battery-operated Lego® racecar as well as their own rockets from a kit. Lots of walking from one end of campus over and over. The campers who are participating in Aviation Challenge have to leap to attention and yell, like they're military recruits.
Today, the kids got to use a manned maneuvering unit (MMU). Air compressors push the MMU up so that campers are floating over the floor for a frictionless experience, as if out in space maneuvering. They learn how to push the levers for forward, back, sideways, etc.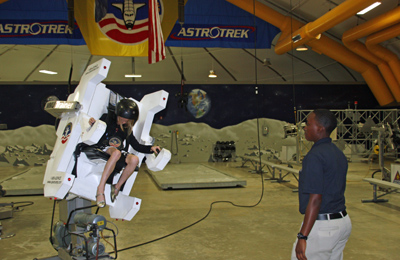 A girl operates the levers of the manned maneuvering unit at Space Camp
For the classic camp experience, the food's actually getting worse. Don't look at it, don't think about it, just shovel it in. At least there's always ice cream at lunch! Love those little dishes with the wooden spoons.
Meanwhile, the kids are doing their best to stay organized, find their clothes, and remember where they put everything! Who made this bunk anyway?
Our mission yesterday in the shuttle simulator went OK, but we hope the second will be even smoother. Everybody is making lots of friends and having a great time.