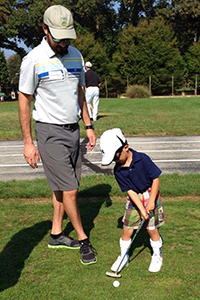 To reach out to the parents of every blind and or visually impaired child in this country is a dream we have had for many years. The chance to explain to these caring parents that their children can achieve above and beyond their wildest dreams is something that the Middle Atlantic Blind Golf Association has had on their wish list. While we are a golfing organization, our children go far beyond the fairways and greens. We open doors for life using golf as a conduit.
In the world of Junior Golf, 2013 has been a bigger and more exciting venture into peer education in both golf and living. This year we have expanded our horizons even more than before. Baltimore, Maryland; Greenville, North Carolina; Aurora, Colorado: our website is attracting new members each year. Our program is designed so that all of the children, no matter where they live, can learn and participate in the sport of golf at no cost to their parents. We reach out to all equally. However, in areas away from our sphere, we are limited to persons surfing the web, and this has brought us to the conclusion that many parents of blind children can and should be made aware of what we can do for their children.
We have two clinics a year (spring and fall) at the Overbrook School for the Blind in Philadelphia. This year we had twenty two children join our ranks. We supplied them with golf clubs, balls, a bag, and lessons from a P.G.A. Professional. All this is free and that includes lunch and a fun time for all. We have volunteer coaches for the kids at the clinics and everyone goes home with a prize.
One of our junior golfers, Brian Mackey completed his first year in the adult program serving as an assistant golf coach. Patrick Molloy, graduated from high school and is now a junior at Mullenberg College, the first totally blind student to attend in many years. Another one of our graduates, Casey Burkhardt received his masters degree from Villanova University and is now working for Google. Jon Gabry, our deafblind youth is the poster boy for the Helen Keller National Center. He has been selling his art works (that's right, artwork) in both New Jersey and New York. He currently has four pieces hanging in the Metropolitan Museum. If I sound excited, I am; these kids are great.
In the fall of 1993, the M.A.B.G.A. initiated this program of specialized golfing lessons the the blind youth of Philadelphia and surrounding areas. Gil Kayson, the chairman of the junior program, was the motivating factor in getting this started. This pilot program is the first known effort between a P.G.A. Section (thanks to Geoffrey Surrette) and a regional Blind Golf Association. Our goal is to have this program reach out to all blind children ages five to twenty-one throughout this country.