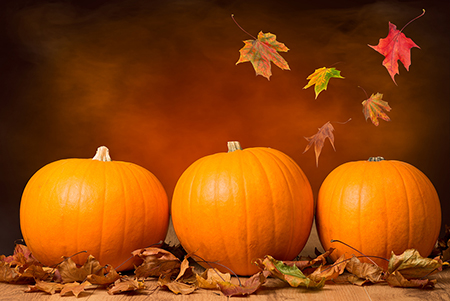 Oh, autumn—we're so happy you're here! Can't you just smell the warm mulling spices, taste the cider, see the fiery foliage, hear the crunch of leaves underfoot, and perhaps best of all, feel the crisp air on your cheeks? In my opinion, this season wins at best exhilarating the senses.
For this reason, fall is the easiest season to experience and enjoy for children with visual impairments. Let's not take that for granted; let's take full advantage!
Here are four activities aimed at involving your child who is blind or visually impaired in fall fun:
Get outdoors and go for walks! Enjoy this season that is no longer too hot and not yet too cold, and while you're at it, experience the uniqueness of fall nature. To inspire you and give you specific tips, read Take an Autumn Walk and Encourage Your Child Who Is Blind or Visually impaired to Discover the Sights, the Smells, and the Feel of Fall.

For those indoor days, relish the tastes and smells of fall through pumpkin-inspired baking and crafting. To inspire you and give you specific recipes, read Pumpkin Crafts Galore That Reach All the Senses.

Help your child learn to cook one developmentally appropriate signature holiday dish, giving him the skills to contribute it to the Thanksgiving meal and upcoming holiday parties, get-togethers, or meals. To inspire you and give you specific tips, read Enlist the Help of Your Child Who Is Blind or Visually Impaired with Your Thanksgiving Meal Preparation.

Invite your child to decorate your home alongside you. Ask him to accompany you to the store and to help choose a few fall-inspired items such as a chrysanthemum to be potted near the front door, a pumpkin picked from a local patch, a few cinnamon sticks to be placed in a decorative bowl in the kitchen, and/or a candle or wax scent for the warmer in the scent of apple or pumpkin pie. Not only is shopping and purchasing items a wonderful lesson, but the experience also gives him the opportunity to understand the concepts of fall.
Most importantly, enjoy the season in a meaningful way for the entire family, and while you're at it, establish a family tradition or two!
Additional Seasonal Resources
Inspired by the Holidays: Imparting the Discipline of Gratitude to Your Child Who Is Blind or Visually Impaired
Inspired by the Holidays: Encouraging Your Child Who Is Blind or Visually Impaired to Get Curious About Careers