Families who have a child who is blind or visually impaired spend much time and energy teaching concepts which would otherwise be learned incidentally, demonstrating self-care and home management skills, addressing accessibility concerns, visiting specialists, attending educational planning meetings, and responding to questions of passersby and family members. Siblings can feel forgotten. Siblings can feel bitter. Siblings can feel jealous. Siblings can feel afraid. Siblings can feel embarrassed.
In an effort to address these and other potential feelings of siblings and to share how to encourage healthy relationships between siblings, I have gathered FamilyConnect resources on the topic.
Here you'll find lessons learned from Emily Coleman, mom of three: two daughters and son, Eddie, who is visually impaired and has autism: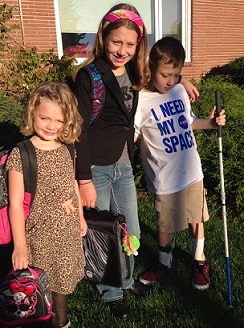 Here you'll find additional tips on proactively addressing the concerns of siblings:
What additional suggestions do you have for our community? How have you encouraged healthy family dynamics? We'd love to hear.
Additional Resources
Meet Families Just Like Yours—Families with Children Who Are Blind or Visually Impaired