You've heard the saying, "A bad day of fishing, is better than a good day at work." But have you ever gone fishing with Lions?
As a kid, my dad always promised to take me fishing. I remember going twice. So you can understand my reluctance to take my blind son Bob fishing. If it was left to me, it'd really be the blind leading the blind.
In 2004 when Bob was in the 5th grade, his school teacher had gotten a flyer from the Everett Central Lions Club. They wanted blind people to come participate in their Salmon Fishing Derby. He thought it might be kind of fun, so off we went. The blind person is allowed to bring a sighted guide.
Everett Central Lions Club
The Everett Central Lions Club is one of the oldest Lions clubs on the west coast, dating back to 1920. The fishing derby started in 1944. How or why it started is somewhat of a mystery, because there aren't any written notes on it. But the best guess is that it might have had something to do with returning, injured veterans from World War II.
Today, the Salmon Fishing Derby is the club's main project. They average about 35 participants every year. Volunteer skippers donate their time and boat so that people who are blind can have the thrill of catching a salmon.
The Fishing Derby
The derby is held on the third Sunday of September from the Milltown Sailing Association at the Everett Marina. It starts at 5:00 am. And I don't know anyone who can get excited about getting up at 4:30 in the morning. Bob did it this year because he wanted to try it again, and he didn't have to get up for school the following morning. "It's fun when you catch something. But it's boring when you don't, like the last couple of years."
Bob's Big Catch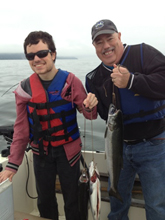 When we arrived, there was a volunteer standing by a huge board to check off our name. It also contained the name of our skipper and how big his boat was. Coffee and cocoa were available to drink. When our skipper showed up, we headed off to the boat. A brown bag breakfast of muffin, apple slices, string cheese, Sunny D, peanuts, and a couple pieces of 'fun size' candy was provided.
It took about 30 minutes of travel to get to Brown's Bay in north Edmonds where the poles were set out for the first time. The best part of being the sighted guide is that I don't have to do anything. The skipper and his deck hand piloted the boat, baited and set the poles. Then we trolled around until we got a bite.
When a fish was hooked, the Chinese Fire Drill took place. It was up to me to get Bob to the pole, while the skipper grabbed the pole and handed it Bob. I then grabbed the pole while Bob reeled in the fish and the skipper got the net out. Success! A seven-pound silver salmon was landed. That first year, we came home with two salmon. This year we came home with three silvers! The boat limit was six.
Experienced Pilot
The best part of Bob's first fishing derby was getting to pilot the boat on the return trip. Steering a three quarter of a million dollar pleasure craft was "great fun." And it eventually led to piloting a two million dollar catamaran for an hour on a trip to Hawaii a couple of years later. (All done under the skipper's supervision, of course.)
"I've come to appreciate the sacrifices made by both commercial and sports fishermen since I've participated in the Everett Central Lions Club Salmon Fishing Derby," says Bob.
Lunch and Prizes
All the boats return around 11:30. The Mill Creek Boy Scout Troop #221 helps with the weigh-in. Fish are bagged, tagged and put on ice for later pick up. Now it's time to go inside for lunch: chili, coleslaw, corn bread, Sun Chips, and a variety of drinks. After lunch, the awards are given out. This year's first prize was $800 for a 15-pound Silver! The skipper of the winning boat got a brand-new crab pot. All participants who didn't win cash prizes got a $45 gift card from Walmart.
The Lions Club is always looking for new members. Please consider joining your local club, they do fabulous things in your community. And remember their motto, "We serve." For more information about Lions and the Everett Central Lions Club Salmon Fishing Derby For The Blind please contact Art Ruben at since1965@aol.com.