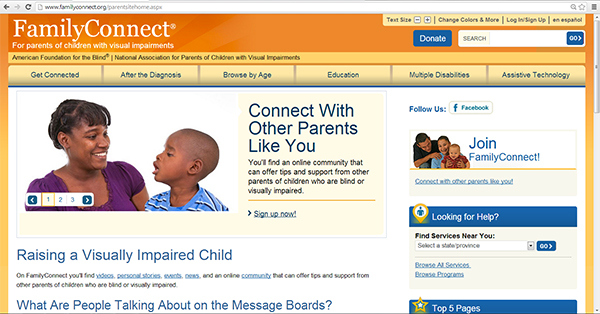 We are excited to introduce FamilyConnect's new look today. AFB and NAPVI have redesigned the site with input from the families who use it. On the new home page you may connect with others, jump on the message boards, read current news, follow our blogs, and more.
One of the main changes is that the top of the page a persistent navigation bar now makes it easier to discover the depth of information FamilyConnect offers. And with the home page slideshow you can quickly find out what is happening in our world.
Over on the right, within the blog area, you'll see a new blogroll—a list of some of our favorite blogs about parenting children with visual impairments. Please let us know your favorites, too. Do you have something to say and want to blog with us? Let us know—we love to have guest bloggers.
Here are some of the ways you can get involved with FamilyConnect:
What do you think of FamilyConnect's new look? Please let us know in the comments—especially if you encounter any problems! Thank you for being here for each other, and continuing to make FamilyConnect a valuable resource for parents who are raising children who are blind or visually impaired.