Our very own Emily is a guest blogger on the main AFB site today. She gives a wonderful response to what specialized services mean to her and her family. Read what she says, and follow her blog on FamilyConnect by signing up for email alerts.
As Emily says: "Should my son not be educated properly simply because his disability counts as 'low incidence?' Should I be OK with him sitting in a corner of a classroom because all the educational materials are inappropriate for him… but they work for everyone else? Should I be resigned to the fact that he won't learn braille, because it's too specialized and there is no one to teach it? Basically, should I allow him to be illiterate? Um, I don't think so."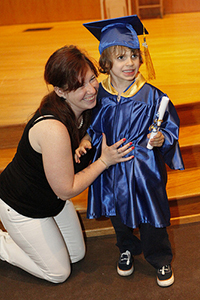 What do specialized education services mean to you? If you have ever had trouble explaining why they are so necessary, check out the new handouts from AFB (available both online and as accessible PDFs for downloading). And let us know, in the comments, the impact that specialized services—or the lack thereof—have had on your child's life.