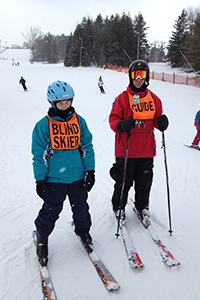 I am the mom of 16-year-old twins, Ryan, who is sighted and Alyssa, who is blind. My children are AWESOME!!! I have friends, looking to adopt, and they have asked for notification of any child who is visually impaired, as they would like the opportunity to adopt him/her. This makes perfect sense to me.
Having a child who is blind certainly does add a different element to our lives—we have to talk more, touch more, and choose our vocabulary carefully. We have to be fearless, because our fear will inspire the fear of others—teachers, principals, care providers, and most of all, our children.
As a parent, ensuring my children have the tools they need, then encouraging them to fly with them, has been the most challenging part of this role. It has been especially hard because society wants to shelter my daughter and tends to look at me like I am crazy when I don't. Yet, ironically, they admire the fact that she is not controlled by fear.
Both of my children downhill ski, wakeboard, swim, bicycle (though Alyssa tandems), and Alyssa water skis, as well.
The first time my 2 1/2 year old Alyssa climbed the stairs, I was verbally directing her, from the floor below, trying hard not to allow the terror I was feeling to be divulged in my voice. I was close enough to catch her if she fell, but far enough away to let her know she was doing it herself and I had full confidence in that ability, even as tears flowed down my cheeks. Thank God she couldn't see them!!!
That experience has resonated, in different ways, throughout her childhood.
Downhill skiing has been particularly challenging for me. I am terrified of heights. I have tried being on top of a hill, with slippery pieces of wood strapped to my feet. I actually asked if there was a different way down the hill and was advised, with a snicker and a nod toward the hill, there was only one way down Tenderfoot.
I had a lot of good reasons — at least 20, in my head — why downhill skiing was a bad idea, especially for my 7-year-old, who would need to do it without the benefit of sight. She had only one reason why she should — she wanted to try it. There are so many people and environments in this world that will deter her from doing things. That was not a role I was willing to take. I want to be the bubbles that propel her up, not the drain that sucks her down.
Alyssa began downhill skiing with a great program, called Track 3 Ski Club, where they teach children with special needs how to downhill ski. When she was in grade seven, she signed up for the school's ski club. She was incredibly excited, because they were going to steeper slopes at another ski club for an entire day. She had her Track 3 Ski Club instructor, who took the day off work to be her guide (aren't people wonderful???), so I knew, logically, that she should be fine.
But logic and a mother's emotions and fears are two very different things. I was terrified—my baby's first long ski trip at a new hill!!! As I stood in the early morning frost, watching the bus drive away, with my heart in my throat, I knew my limitations and fears had not become my child's. She was choosing her own course and providing me an opportunity to confront and embrace a fear much greater than standing at the top of a hill with two slippery pieces of wood, strapped to my feet.
Thank you, Alyssa.